local_floristTake another step towards sustainability
With our expertise, a solar system can power your home in a more sustainable way, and could save you a bundle on electricity bills as well. With awesome discounts on offer for Hyundai Kona Electric & IONIQ owners, it's a great time to get in touch so we can tailor a quote for your home and energy needs.
If you already have a solar system, an LG Chem RESU battery could be a great way to maximise it's value. A solar battery gives you the power to store excess energy generated in the day, so you can use solar power even after the sun goes down. Call us on 1300 674 446 and enter code 285 to find out more about battery discounts.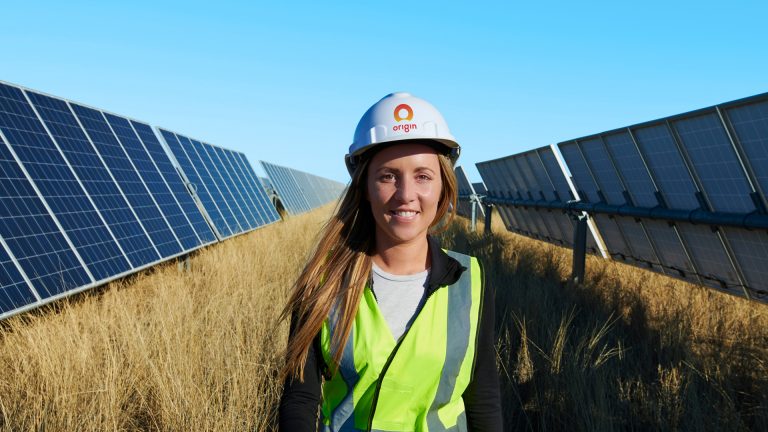 Go greener with a helping hand from us
Hyundai electric car owners can unlock one of the following offers:
Access to solar, electricity and natural gas deals (more details below)

Offers are for residential customers only. Not available in all areas.
You could be saving on your energy bills
Eligible Hyundai customers also have access to special discounts on energy plans
Whether you want a high feed-in tariff or a great discount on electricty or gas, we've got a plan for you. Our rates and discount vary from state to state. To find out what's available for you, give us a call.
We're around 8am – 7pm, Monday to Friday.  
Charging unit sold separately.
The New Hyundai Kona Electric

The Kona Electric is Australia's first 100% electric small SUV!
The car produces zero emissions, has instant acceleration, and can go up to a staggering 440Km (approx) on a single charge.*
Make a statement, make a difference to your planet, and grab these incredible Origin solar deals when you drive a Hyundai electric car.

Want to know more?
or

and enter 285
Speak to an expert between 7 am and 9 pm Monday to Friday
You may also be interested in...
Hyundai Terms & Conditions: All cars must be ordered by 31 December 2019. Hyundai and Origin reserve the right to change, supersede or extend these offers at their discretion.
*Figure based on WLTP (Worldwide Harmonised Light-Duty Vehicles Test Procedure) static laboratory combined average city and highway cycle test, which measure, energy consumption, range and emissions in passenger vehicles, designed to provide figures closer to real-world driving behaviour. Real life driving results will vary depending on a combination of driving style, type of journey, vehicle configuration, battery age and condition, use of vehicle features (such as heating and air conditioning), as well as operating, environmental and climate conditions.
Basic Plan Information Documents: Basic Plan Information Documents are available at our Pricing page. Basic Plan Information Documents are information sheets that contain all the key details of a plan.
About our electricity market offers: These energy plans are for residential customers only. Not available for all areas or properties types. Discounts are off our published Origin Supply usage charges. Discounts only apply to the types of charges described above. Origin also offers a Standing Offer which is a regulated product. To find out more, please call us on 13 24 61. For more details on direct debit, refer to Direct debit terms and conditions.
With Solar Boost: your solar PV system must be net metered and must not be larger than 10kW. You must not be receiving a feed-in tariff under any government scheme. When your energy plan ends, you'll receive our standard retailer feed-in tariff as published on our website. Feed-in tariff rates are GST inclusive (where applicable). 
Standard retailer feed-in tariff is subject to change at any time. Feed-in tariffs are GST inclusive where applicable.