Origin recognises and respects the continuing connection of Aboriginal and Torres Strait Islander people to land and sea – and we have good relationships with our host Traditional Owners in the areas where our activity takes place in the Northern Territory's Beetaloo Basin.
We respect and have confidence in the processes of the Northern Land Council as the appropriate statutory body, for determining who are Native Title Holders and Claimants in our permit area. This includes determining which Traditional Owners attend meetings where Origin's future activities are discussed, and that there are appropriate decision-makers for the different Traditional Owner groups at those meetings.
The principles of FPIC have been applied to the agreements we have in place with our host Traditional Owners and the Northern Land Council for our exploration project in the Northern Territory.
We are committed to applying the principles of FPIC in our approach to working with host Traditional Owners as we plan to resume our exploration program next year.
Should we proceed beyond current exploration activity to future larger scale development and production, we will continue to follow this approach – engaging with communities, sharing factual, scientifically based information and seeking consent through agreement with the Northern Land Council and Traditional Owners.
About the Beetaloo Project
Origin holds exploration permits to undertake a nine well exploration project in the Northern Territory's Beetaloo Basin. This permit area covers 18,500 square kilometres and spans several Traditional Owner groups.
Four wells have been drilled to date, one of which (Amungee) was fracture stimulated in 2016.
The fracked Amungee well was part of an annual work program shared 12 months prior with the Northern Land Council and host Traditional Owners. The plan, along with controls in place to protect the environment, were discussed in the October 2015 on-country meeting, and consent given (evidenced by the minutes) by the Traditional Owners determined to have the cultural authority to speak for that country.
Origin is planning to drill a further three wells in 2019 as part of its Beetaloo exploration program.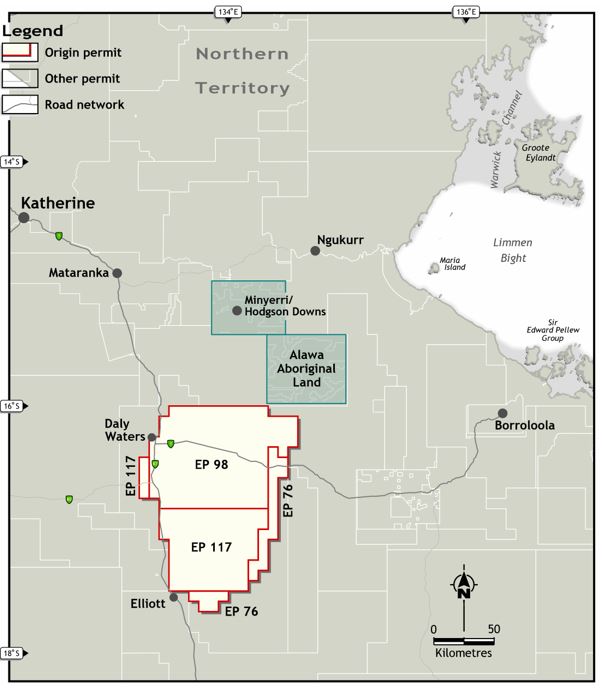 ---
---