You may have seen a lot of media coverage recently about rising energy prices, particularly electricity. This is unwelcome news for anyone already feeling the pinch of higher costs of living. So why are prices going up now?
One of the main things driving up customer prices is a significant increase in the wholesale cost of electricity. This is what retailers like us pay to purchase the electricity we supply to you. Origin, and a number of other retailers, also generate some of their own electricity to provide to customers, and the cost to generate electricity has also gone up. So how are these costs reflected in your energy bill?
Why are prices increasing?
The Australian Energy Market Operator (AEMO) recently revealed that the wholesale cost of electricity in the National Electricity Market (NEM) for the first three months of 2022 has increased by 141% compared to the same quarter last year.
Think of the electricity market like the stock market. Different generators (like coal and gas-fired power stations, solar, hydro and wind farms) sell the electricity into the market, and retailers buy it. Just like stocks, the purchase prices go up and down depending on a number of different factors.
After many years of relatively stable electricity prices, with electricity costs in 2021 reaching their lowest in 8 years, we've seen a huge increase recently.
Here are some reasons why:
1. A global spike in the price of coal and gas, which is still used to generate most of Australia's electricity.
This graph shows the global coal price change (in US dollars per tonne) between November 2021 and May 2022: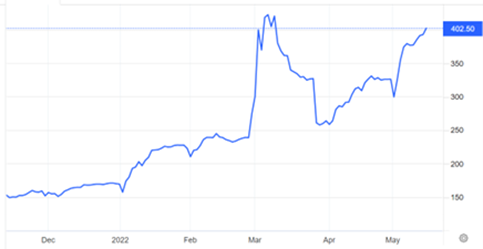 This one shows international gas prices at record levels, with the Asian Liquified Natural Gas (LNG) price shown in Australian dollars per Gigajoule:

As you can see, the cost of energy is going up all over the world. Europe, in particular, is going through an energy crisis caused (in part) by the Russian invasion of Ukraine. The effects are being felt all over the globe – even here in Australia.
2. Adding to these global pressures, locally the supply of electricity has been unstable. Unplanned outages at power stations and extreme weather have meant less electricity is being produced than usual. For example, in the past few weeks, up to 30% of national coal generation capacity has been offline at times.
The combination of all these factors means that the cost of producing electricity has gone up, at the same time there's been less supply available. High demand, as well as expensive materials (coal) have created a perfect storm for higher prices.
What this means for your bills
At least once every twelve months, energy retailers review and update their prices as the costs to provide energy change. According to the Australian Competition and Consumer Commission's (ACCC) 2021 market report, this is what makes up the average Australian household electricity bill:
The wholesale cost of electricity (32%)
Network costs – maintaining the lines, poles and other infrastructure (45%)
Environmental certificate costs – the costs to meet renewable energy target obligations (10%)
Retail costs – managing billing, customer service, etc. (10%)
Retail margin (3%)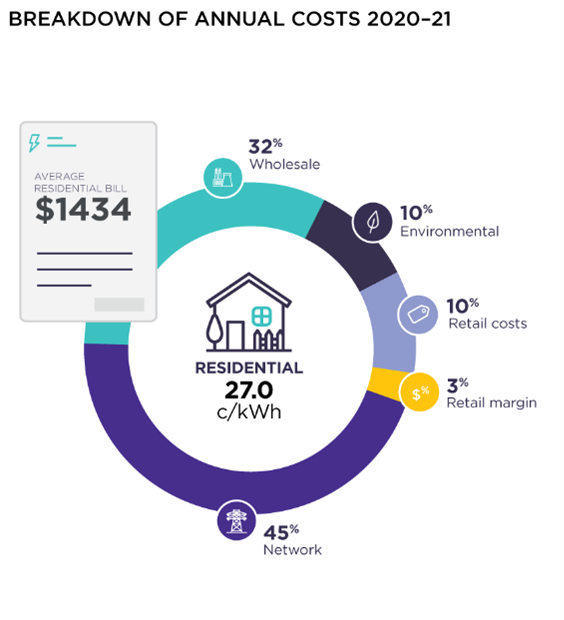 With wholesale costs making up over a third of your bill, retailers need to be able to cover some of the price rises we're seeing on our end. But at the same time being mindful of the cost-of-living pressures already being felt by many people across the community.
Those retailers who can't cover their operating costs may be forced to close shop, which isn't beneficial for the industry or for customers as it results in less competition. We've already seen this happening in Australia, where some of the smaller retailers have stopped taking on new customers as they simply cannot afford to. Or for existing customers, some have increased prices by as much as 100%.
Rest assured Origin won't be increasing prices to these levels, but they will be going up for some of our customers. As a larger retailer, we own and operate some of our own electricity generation. That means we're in a stronger position than some to be more resilient to the ups and downs of the wholesale market. But we are still facing cost pressures due to coal supply issues, and because we only generate enough power for around half our customer's needs, we are exposed to paying higher market prices for the rest.
The Australian Energy Regulator (AER) recently released the latest Default Market Offer (DMO) that is the maximum price retailers can charge customers on standing offers in New South Wales, Queensland and South Australia from 1 July 2022. According to this decision, prices for households will increase by between 7.2% and 18.3% depending on customer location and tariff, and prices for small businesses will increase by between 5.7% and 19.7%.
The Essential Services Commission (ESC) in Victoria has also announced a price increase to the Victorian Default Offer (VDO) of up to 5% for residential and small business customers in that state from 1 July 2022.
We'll let you know if your prices are changing
If your prices are changing, we'll let you know. Our commitment is to provide all of our customers with a fair price for energy that reflects what it costs us to provide energy to you. We've lowered prices before and we hope to do so again in the future.
For customers in financial hardship, who may be struggling with their energy bills, we have tailored support available through our Power On program. We strongly encourage anyone in need to contact us so we can help.
We're also increasing support for our most vulnerable customers and will be protecting everyone in our Power On hardship program from the impact of these price changes.
What can I do to reduce my energy costs?
We have a wide range of energy plans available for your needs, including our Everyday Rewards plan that lets you earn points for every dollar you spend on energy. You can also check to see if you're eligible for any concessions or rebates on our website.
Our energy savings rewards program Spike is another way we're helping customers save energy and earn rewards. Over 71,000 Spike members have already earnt over $3.1M reward points, that can be redeemed for PayPal cash or gift cards.
We also have a range of tips and advice on how customers can use energy efficiently and save money on their energy usage.
And while we'd hate to see you go, Victorian Energy Compare and Energy Made Easy (for customers outside of Victoria) are independent sites that allow you to compare plans across different retailers.