Looking for ways to dial up the 'green' in your new place?
These easy eco-friendly tips will help inspire you to make your new space more sustainable – one weekend project at a time!
1. Grow your own
Starting a veggie patch is an easy and fulfilling way to help reduce your footprint. You can start your own urban – or suburban – mini farm with very little space (and without too much effort).
The main things you'll need are a spare garden bed, raised garden bed or a portable garden bed (depending on what size works best for your outdoor area), some seasonal seeds or seedlings and some good quality soil. There are plenty of tips online that can help you with the nitty gritty of feeding and mulching.
If you're not keen on growing your own, shopping at local farmers markets is the next best thing!
2. Get a little spicy
You're midway through cooking up some pasta sauce when you realise you need basil. Rather than dashing to the supermarket and grabbing the usual plastic-sleeved or tubed varieties, why not skip the hassle and pop outside, or reach over to the windowsill, and pick your own?
Fresh homegrown herbs taste better and also help to reduce single-use plastic in the kitchen. They're a great opportunity, too, to make your own signature spice blends – which can make great Christmas or housewarming gifts!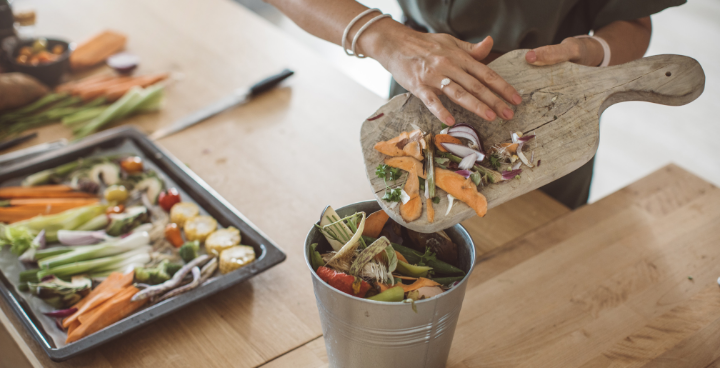 3. Waste not want not
Recent research has shown that about half of the average household's rubbish can be composted. Food waste going to landfill is a big problem. Because oxygen is low in landfill, organic materials rot and produce methane – a greenhouse gas more potent than carbon dioxide.
You can do your bit by investing in a compost bin and turning your food waste into food for your garden. Bonus! You can also add garden waste to compost bins.
4. Get wormy with it
If you're keen to take your compost game to the next level, consider turning your bin into a worm farm!
The benefit of adding these little critters is that they'll help break down the scraps, keep odour to a minimum and produce liquid and solid castings (both of which can be mixed with water to produce a liquid fertiliser).
Worm farms are best suited for food waste, so avoid popping garden waste into your farm.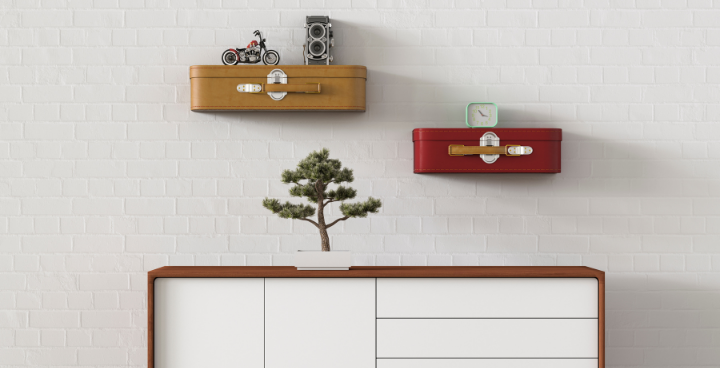 5. Choose pre-loved
Opting for second hand items not only helps reduce the amount of emissions and resources being used during manufacturing, it also gives unique pieces a new life – saving them from landfill. Think of all of the iconic 1960s and '70s furniture that would otherwise be lost without op shops!
Statement pieces from different eras can really bring a room to life – think quirky lamps, gramophones, record players and vintage chairs.
If you're a DIY lover, thrifting is a great excuse to trawl through treasures online (or in-store) and scroll through Pinterest for upcycling inspo until your heart (or mood board) is content.
6. Swap out your kitchen go-tos
Doing a little audit of your kitchen go-tos can offer up a surprising number of sustainable alternatives.
Swapping out baking paper for silicone baking mats, cling film for reusable food wraps and zip lock bags for silicone pouches are all great ways to minimise the use of plastics at home. Could you set a goal to swap out one item each month?
7. Choose green when you clean
Most of us have a few fav cleaning products that we've used for years – without ever checking the ingredients.
Choosing greener cleaning products, or even making your own, is a simple way to help reduce chemicals entering our atmosphere and waterways. Switching to steam cleaners is also a great way to disinfect and kill germs with no cleaning products, except for water, needed at all.
Top tip: A simple solution of bicarb soda, lemon juice or vinegar can be used in place of bleaches and detergent to kill bacteria and leave your home grease- and odour-free.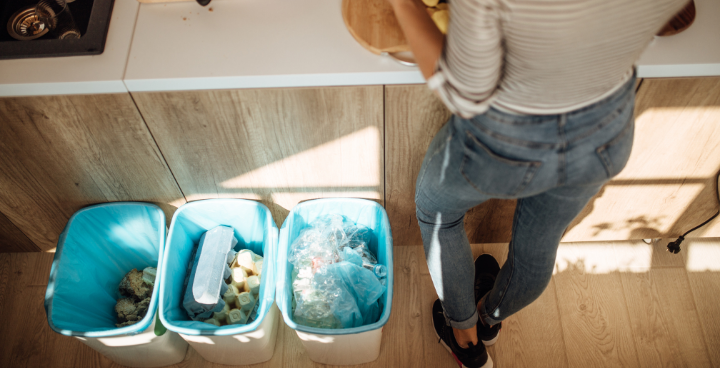 8. Sort it out
Invest in a sorting bin for your kitchen and commit to separating your recyclables, general rubbish and soft plastics.
Plastic packaging, like cereal and biscuit liners, too often end up in the 'general rubbish'. Sadly these take hundreds of years to break down in landfill. The next time you're out shopping at your local Coles or Woolworths store make a point of taking your soft plastics in-store and drop them into the Red Cycle bin so they can be turned into playground and outdoor furniture.
9. Reduce the use
The smallest changes to your daily habits can create a big difference to the way you use energy at home. By assessing how your household uses energy, you can start making more conscious choices and reduce your usage (and footprint!).
If you're looking for a fun way to get the whole family excited about saving power, sign up to Origin Spike. It's a cool new way to reduce your energy use – and get paid for it too.
10. Harness the sunshine
Add ambience to your outdoor living area with décor that's powered by the sun.
From festoon lights, fairy lights and lanterns to water features – the options to zhuzh up your garden are endless. Choosing décor that's solar powered not only means avoiding the hassle of locating, or installing, outdoor powerpoints, it's also energy savvy.
Want to go even bigger? Consider whether solar panels would be right for your home. Our solar calculator will crunch the numbers and give you an idea of what you could save.
---