Whether you've just moved into a new home or are looking for a project to keep you busy, there are plenty of quick tricks to instantly update your living space.
What's your style?
Before you get started, think about what you want to achieve.
Are you looking to start afresh?
Do you have a theme in mind?
Fancy a modern Scandi twist, a Marie Kondo–style declutter session, boho vibes or rebooting some 1970s classics?
Whatever your personal interior style, jot down some ideas and pull together a mood board on Pinterest. Start planning the items you'd like to add, repurpose, or bring out of storage.
Scrolling social media can help you with planning and inspiration. Follow interiors or styling tags on Instagram, or follow DIY, sustainable and interior design gurus for ideas.
Here's a selection of favourites to help start your creative engine.
Quick and easy fixes
If you want to freshen things up without handing over a small fortune, some no-fuss basics will serve you well. Rearrange your furniture, fluff pillows, unroll a rug and declutter all surfaces. Even little hacks like these can instantly lift a room with next to no investment.
Keen to splash a bit of cash? BIG W, KMART and Target have an almost cult-like following on social media thanks to their affordable and stylish home décor options.
If you have the time and patience, or are after something unique, check out your local flea markets and op shops. These can contain hidden treasures that can help you to bring your new living space to life.
Wall art and mirrors
Mirrors add depth to a room and the vast variety of wall art will help you express your personal flair.
Depending on your budget, your options are limitless, from handcrafted wonders to one-off pieces created by local artists. Don't think you need to buy an original artwork – think outside the frame and get creative.
We've seen vinyl records and covers become works of art, woven baskets and bowls can be hung to give boho vibes, and macramé wall hangings can add a tropical-holiday vibe to any living room.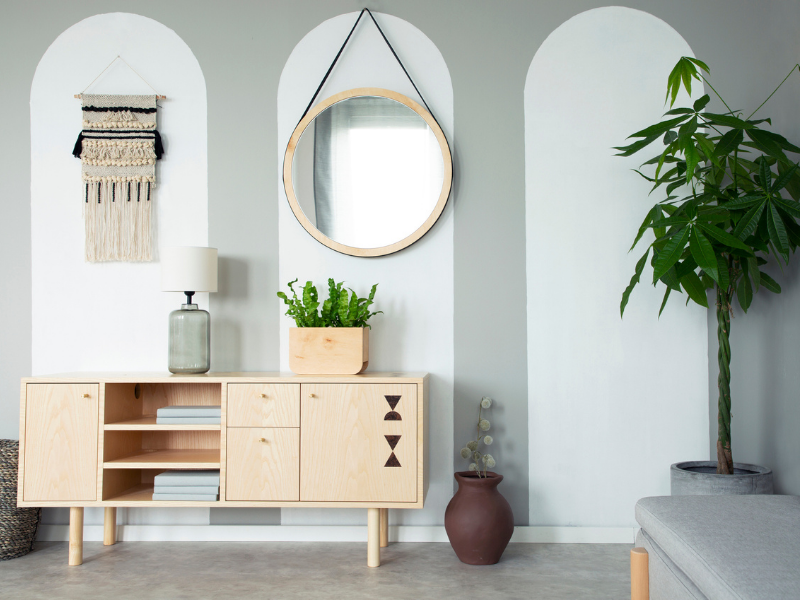 If you're renting and can't hang items on the wall, don't despair. Hang things off furniture, door knobs or invest in some removable hooks, which can display your art without compromising your bond.
Flip a piece of furniture
Looking for a project that will test your skills, get the kids involved, and recreate your living room aesthetics? Dust off that unloved piece of furniture and bring it back to life!
Pinterest and Bunnings have some great DIY ideas to help you through the process.
Don't have the furniture to flip? Scour ops shops and trash-and-treasure markets and turn someone's unwanted furniture into a feature for your living room. A quick online search for 'upcyled furniture' will get your imagination flowing. We've seen an old hutch upcycled into a bookcase and an outdoor chair flipped to statement seating.
Plants, plants, plants
Beyond giving your living space a facelift, there are heaps of benefits to adding greenery to your room. Research shows that indoor plants can boost your mood, increase productivity, purify the air and reduce stress. The choices are endless – whether you're blessed with a green thumb or not.
Depending on the theme, there are a wide variety of plants to choose from. Some favourites are Devils Ivy, matched with a piece of statement furniture for a chic modern look, a peace lily if you're recreating a tropical vibe, or a Zanzibar gem for a no-fuss fresh choice.
If you're feeling really adventurous, you can make your plants the feature of your living space and hang them from the roof or the walls.
Want more tips to liven up your new place? Check out our tips to give your bathroom a lift.