Walking to work, meat free Mondays, using a reusable coffee cup… these are all examples of good changes that you might have considered, or already made, in your life. There are loads of different ways to make positive changes towards a cleaner future and we want to reward you for them through the Good Change Club.
Wait, there's a club?
The Good Change Club is an Origin initiative in partnership with the Sydney Swans, Netball Australia and Melbourne City FC to help bring good change to sport, by working together towards a cleaner energy future. By using the power of sport for good, the club aims to educate, inspire and incentivise sports fans to make small acts of good change that collectively make a big difference.

Plus, the club will look to celebrate and reward acts of good change by inviting people to share their own changes for the chance to win tickets to watch some of your favourite sporting teams, exclusive access to VIP spaces, signed merch and more.

Why was the club created?
Our goal is to lead the transition to net-zero by decarbonising our own business – and by working with our customers to help them on their carbon reduction journeys. This is the focus of our sports sponsorships and the reason why we're providing solar, battery storage and EV charging stations for Melbourne City FC's new home, the City Football Academy in South-East Melbourne. We're also excited to be working with the Sydney Swans to investigate what clean energy solutions are best suited to their new state of the art headquarters at the Royal Hall of Industries.
Every club needs a captain, right?
Too right and we have three! Through our partnerships with the Sydney Swans, Netball Australia, and Melbourne City FC, we're working with three ambassadors who are just as passionate about good change as we are – and they'll be sharing what they're doing as part of their own journeys. Our captains will also be leading the charge on educating supporters about the small changes we can all make, in addition to helping reward those fans that take action throughout the AFL, netball and soccer seasons.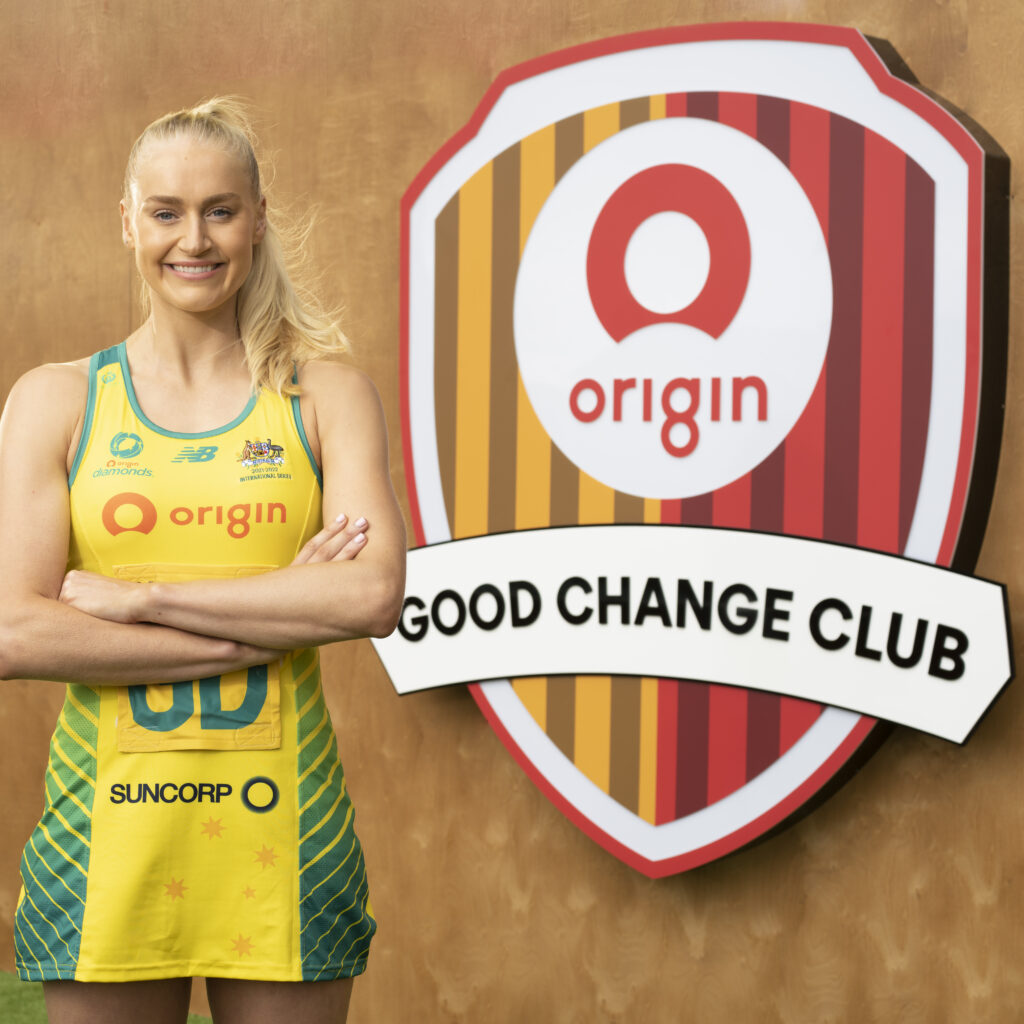 Keen to join in?
There will be plenty of prizes to be won over the next 12 months, so why not get involved?
Entering is easy:
1. Understand what a good change looks like (see below for some inspiration if you're stuck)
2. Make sure you've read through our T&Cs
3. Head to the Sydney Swans, Melbourne City FC, Netball Australia or Suncorp Super Netball (SSN)'s Instagram posts to enter, and in 25 words or less, share how you're helping create good change. Please note: comments on the Sydney Swans account will get you in the draw for Sydney Swans-related prizes, Netball for Netball etc.
4. Enter as many times as you like, go wild with acts of good change!
5. Want to take it to the next level? Show us your good change by making Instagram videos or stories. Make sure you tag @originenergy and use #GoodChangeClub

Need some inspiration to get started?
Chances are you're already doing a few of them and not realising! Head over to our Captain's social channels or check out our 90 Ways of Change hub for some simple ways you can make a big difference.