Want to know what it takes to be a Spike Champ? We sat down with the winner of Origin's Spike Championship to discover her triumphant energy-saving tactics.
The Spike Championship has officially closed after Aussie households battled it out to reduce, save and get creative with their energy use.
Competitors across the nation brought their A-game, with South Australia taking the title of most energy saved on average per Spike member in each state⁠. But it was Paddington in Queensland that ended up being home to the ultimate Spike Champ, with winner J. Reilly crowned the victorious owner of a brand new Tesla Model 3.
The sunshine state has a new local legend
'I was speechless! I couldn't believe I'd won when I got the call from Origin,' said J.Reilly.
'Winning the Tesla Model 3 is life changing. It's been some good news in a pretty rubbish time [with the Covid-19 pandemic and floods].'
Inspired by her love to take up a challenge and the opportunity to save, Reilly and her two housemates entered the Spike Championship and soon learnt how best to adjust their household energy consumption.
'I was pretty rubbish at first,' Reilly admitted. 'Then I started being mindful of our household's power usage. I started turning off all the lights and appliances we weren't using during SpikeHours and before I knew it, I was earning Spike Points for very little effort.'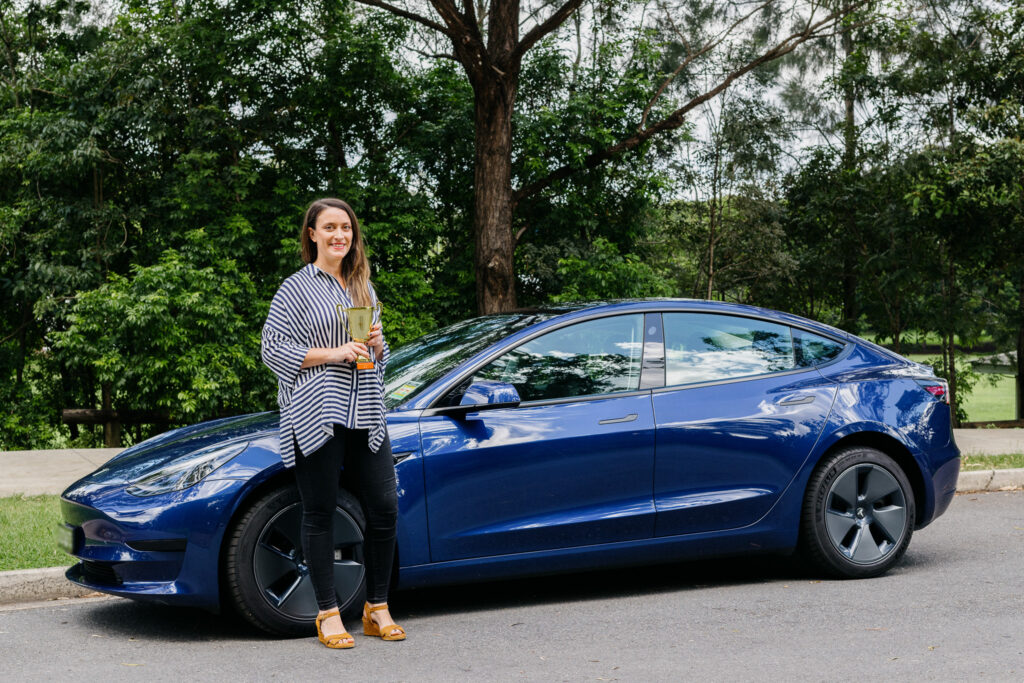 Since signing up, Reilly has found Spike has helped her understand her energy use and now feels more in control of how and what energy she uses.
'The Spike Championship was Origin's chance to show people that saving energy can be fun. Providing challenges that sparked joy and excitement to our Spike community was really rewarding, and we couldn't be happier for our winner,' said Origin Spokesperson Brendan Manzie, Group Manager, Future Energy.
'Spike is designed to empower and reward customers by incentivising energy saving habits to reduce grid strain and help transition towards a more sustainable future. Origin is looking forward to engaging with the Spike community in future as they benefit from the digitalisation and gamification of Australia's energy sector.'Brendan – just like the rest of the Origin team – was so impressed with the Spike Champ's efforts to reduce and engage with her energy use, that he had to be there to celebrate when she picked up the Tesla!
To reduce your energy use and save like a Spike Champ, we've put together some of Reilly's competitive tips and tricks. So, next time you're looking to cut back on energy why not consider:
Going for walks and getting outside with the dog. In Reilly's case, her Great Dane Freya
Switching off the TV and spending time with family and friends outdoors hiking
Turning off lights to create atmosphere with candlelight
Use energy guzzling appliances like washing machines and dishwashers in off peak times, like the middle of the day or overnight
Challenge yourself and family to create low energy meals, perhaps it's a charcuterie board or homemade sushi.
Not a Spike member but interested to learn more about how you can get involved?