Recently moved into a new place? Looking for projects to turn your home into a sanctuary while working from home? These 10 tips will help freshen up your bathroom and make it one of the most inviting spaces in your house. No renos or hammers required.
1. Hang a robe
Add some spa vibes to your bathroom by hanging a robe as you walk in. Whether it's a waffle robe, classic terry towelling or a statement print, it'll make the space feel like a little haven away from the outside world.
2. Add some plants
Indoor plants have seen an explosion in popularity over recent years and no room is safe from the trend – even the bathroom. Turn your bathroom into your own tropical oasis by choosing plants that thrive on low light and humidity like golden pothos, monstera, a Boston fern or bamboo.
Want to introduce a touch of drama? Choose plants that trail and can be hung above the bath. Renting and can't hang plants? Grab some 'S' hanging hooks, pop them over your shower screen and choose some lightweight plants that trail.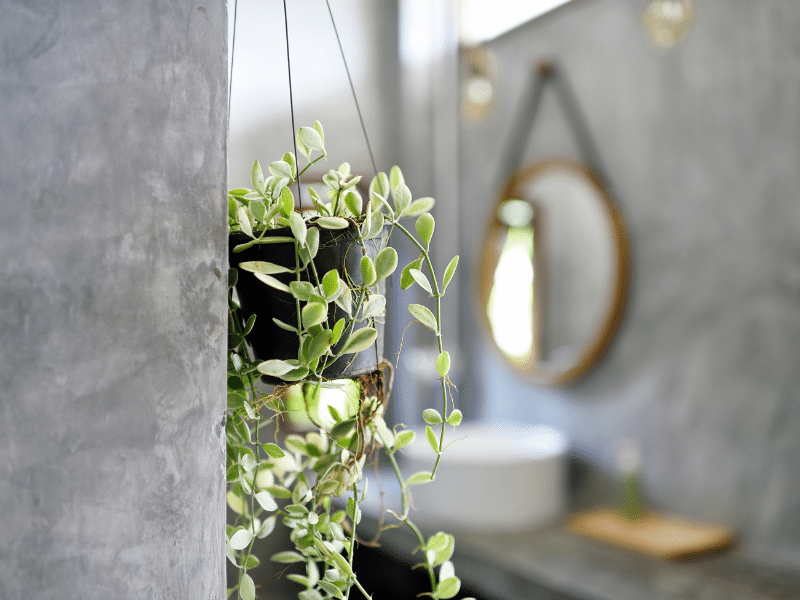 3. Display skin products
Why tuck those beautiful bottles of lotions and potions under the sink when you can show them off?
Pick two of your most beautiful skin products, pop them on a trivet or a tray and show them off on your basin/shelves. Practical go-tos like perfumes, hand lotion and body moisturisers often have eye-catching packaging and are perfect to have out for easy use.
4. Grab a matching waste basket and tissue holder
Bins are often purchased with functionality in mind, but swapping out the usual metal waste basket with a cane or rattan option (and matching it with a tissue box cover) can pull the room together and make it more aesthetically pleasing.
5. Make a statement with bath mats
Whether you're going for a hygge vibe or a modern twist, bathmats are a great way to bring both comfort and style to your bathroom.
Choose from fluffy, boho, coastal, patterned or more vibrant fun options and ditch the basic bathmats.
6. Add texture
Concrete, bamboo, rattan, brass – adding textural elements can elevate the space and the options are endless.
Add some smaller details to your space like catch-all trays for jewellery, laying out bath bombs, soaks or scrub on a marble/bamboo tray or bath caddy, show off dried natives or palm fronds in a vase.
7. Lean a ladder
Ditch the basic towel rack and opt for a ladder instead. This will add texture to the bathroom (choices range from bamboo and traditional woods through to polished metals), add more dimension than traditional rails or shelves, and turn your towels into a real statement.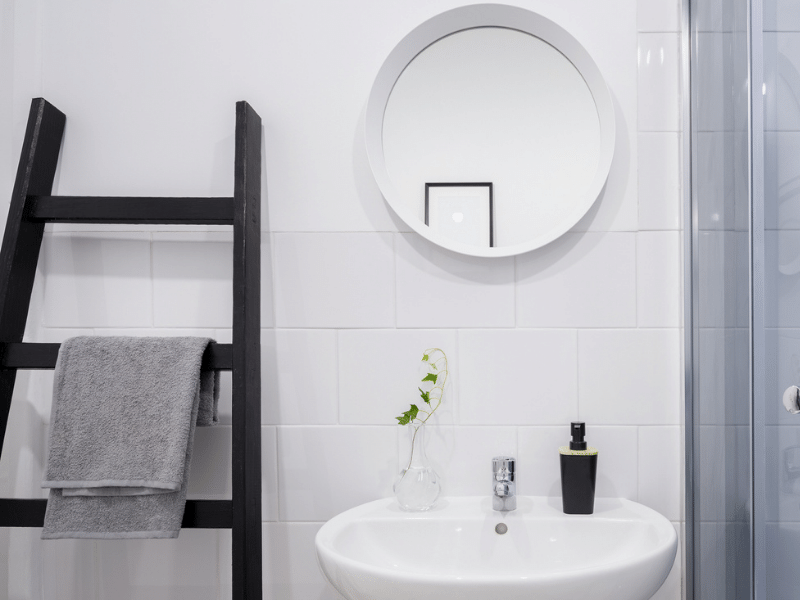 8. Choose a fragrance
What does 'sanctuary' smell like for you? What fragrance comes to mind when you think about relaxation? Pick up a candle, or some diffuser reeds, that really capture a vacation scent, pop that near your bath or shower and wait for the stress of the day to just melt away.
9. Hang a statement shower curtain
No shower-screen? No worries! Add some playfulness to your space by choosing a fun shower curtain. Opt for geometric prints, boho fringed or patterned. Tie in your choice with your bathroom linen to really bring a theme out through your space.
10. Add some wall art
Though the bathroom isn't the first place you think of hanging art, the walls don't need to be bare and boring. Choose a print that matches your theme, or a cheeky or traditional quote, and hang it near your hamper or over your bath for some added personality.
Want more tips to spruce up your new place? Check out our tips to give your living room a lift.