2. Post installation, redeem your NAB Rewards Points for an Origin Solar e-voucher.
Min 48,080 points = $250 discount / Max 336,560 points = $1750 discount
3. Origin will contribute a bonus $500 discount towards a solar panel or inverter.
See the fine print for full redemption process and T&Cs
Speak to a solar expert
A solar expert will call you with a personalised quote
check
Reduced electricity bills
Buy less from the grid - generate your own electricity. This can often mean big savings with smaller energy bills.
check
Low maintenance
Once installed, it doesn't take much to ensure your solar panels always work at their full potential.
check
Reduced emissions
Renewable energy sources like solar can reduce your home's greenhouse gas emissions and help the environment.
check
Feed-in tariffs and rebates
Generating more electricity than you need? Send it back to the grid and you may get a credit (a feed-in tariff) on your bill.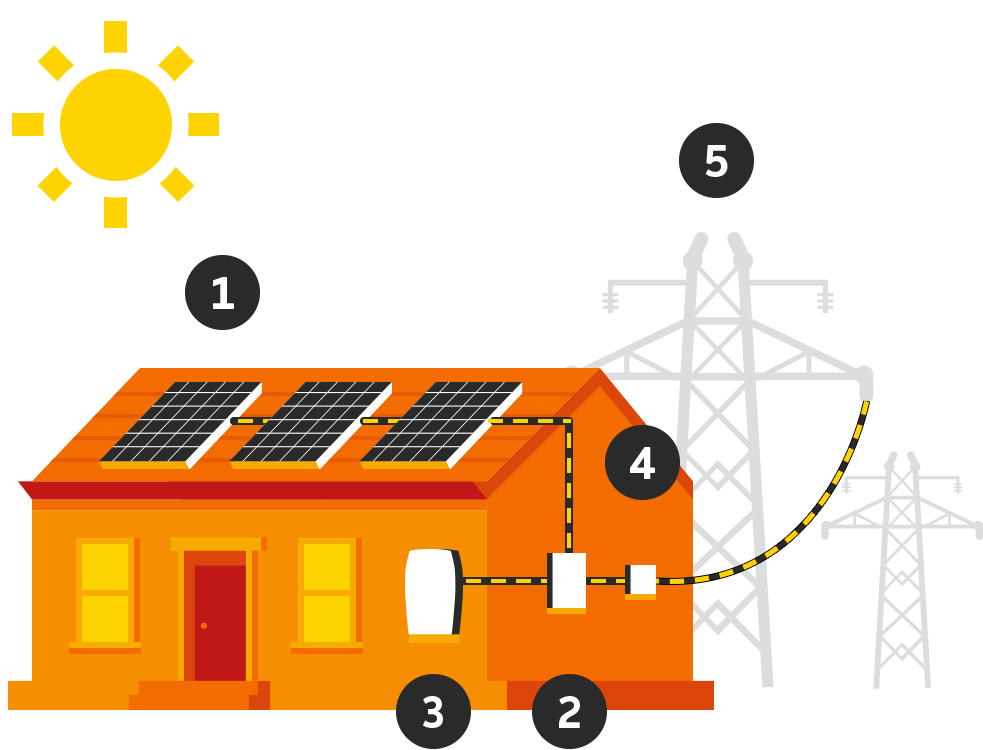 1. Solar panels
capture sunlight during the day and convert it into direct current (DC).
2. Inverter
receives DC from the panels and converts it into alternate current (AC – the electricity you use in your home). You use AC when you need it, and send any excess back to the grid or to a battery storage system.
3. Battery storage
takes any excess energy your system generates and stores it for use later - even when the sun is not shining. When the battery is fully charged, you can send the excess energy back to the grid (step 5).
Note: batteries are not included in this offer.
4. Digital meter
measures your electricity use and can tell you more about your energy habits.
5. Power grid
receives any excess energy you generate, and a feed-in tariff may give you credit on your bill for that excess electricity. You can also draw the extra electricity from the grid if your system doesn't generate enough.
The right solar system for you
Our solar systems are designed to your specific needs. Our solar experts will assess your site and how you use power to help you find the best solar system solution. We'll look at:
Roof size: Do you have enough room to fit at least six solar panels?
Roof shading: Is your roof away from excessive shade during the day?
Roof direction: North, south, east or west? Is it pitched or flat?
Speak to a solar expert
A solar expert will call you with a personalised quote
Eligible customers who redeem 48,080 points for an Origin e-voucher worth $250 (or more) receive a Bonus $500 discount on the quoted cost of a new Origin Solar System, subject to terms and conditions.
Note: Points can only be redeemed in increments of 48,080 ($250) and redemption will be capped at 336,560 points ($1,750).
If you want to redeem your NAB Rewards Points to help you go solar with Origin, follow these steps:
1. Confirm you're eligible for this offer
You can check if solar is righ for you and your residential property by using the solar calculator on this page.
2. Call Origin on 1300 308 624 to organise your solar system installation
We'll make sure you get the right solar system and we'll give you a reference number. Keep this for Step 3.
3. After installation, redeem points by calling the NAB Loyalty team on 13 22 65
Call the NAB Loyalty team on 13 22 65 within 5 business days of your solar system installation. Provide your reference number and redeem your points. Importantly, make sure you have enough points to redeem to participate in this offer, otherwise the full quotation price will be payable by you to Origin.
4. The NAB Loyalty Team will pass on your details to Origin
Shortly after, you will receive an email from the NAB Loyalty team to let you know that you have successfully redeemed your points and qualify for the Bonus $500 Discount. Please note: this confirmation email is your e-voucher reflecting part-payment in redeemed points towards the cost of the Origin solar system.
5. Receive your updated solar system installation invoice from Origin
Origin will apply the e-voucher and Bonus $500 Discount towards the installation quotation price and send you an invoice for the outstanding cost within 10 business days. 
 These special terms and conditions apply in addition to the general NAB Rewards Terms and Conditions and Origin customer terms and conditions.
'Bonus $500 Discount' means $500 discount on the cost of a new Origin solar system purchased and installed. Applies to one installation, one residential property and one Origin invoice only - i.e., the maximum discount you can receive is $500.
An 'Origin Solar System' means solar panels that capture sunlight and an inverter to convert sunlight into energy. Battery not included
Points must be redeemed as per the Redemption Process to avail of this offer, otherwise the full quotation price will be payable by you to Origin.
Only available for residential premises in locations serviced by Origin (as confirmed by Origin before you redeem points), and will not apply to any other Origin services or energy bills. The Bonus $500 discount is not available in conjunction with any other Origin offer.
You must have a minimum 48,080 points at the time of redemption to apply $250 towards the cost of the Origin solar system to receive the Bonus $500 Discount.  Under this offer, NAB Rewards Points must be redeemed in increments of 48,080, which will be applied to payment of the Origin quotation price in increments of $250. This means that any difference between the $250 increment purchased via points redemption and the total Origin quotation price (if lower) is non-refundable and non-transferrable.
Maximum number of points that can be applied is 336,560 ($1,750).
By obtaining a reference number from Origin you agree to NAB and Origin sharing your personal information to fulfil the redemption of your NAB Rewards Points and enable the Bonus $500 Discount to be applied.  This will include your name, email address, solar system purchased and details of the amount paid and saved by you under this offer.
NAB is not responsible for any costs, loss or damage relating to the purchase, installation and/or maintenance of the purchased Origin solar system.
This offer may be withdrawn at any time.