We know there's quite a lot of information on your bill, but it's all there to help you understand your energy charges and usage.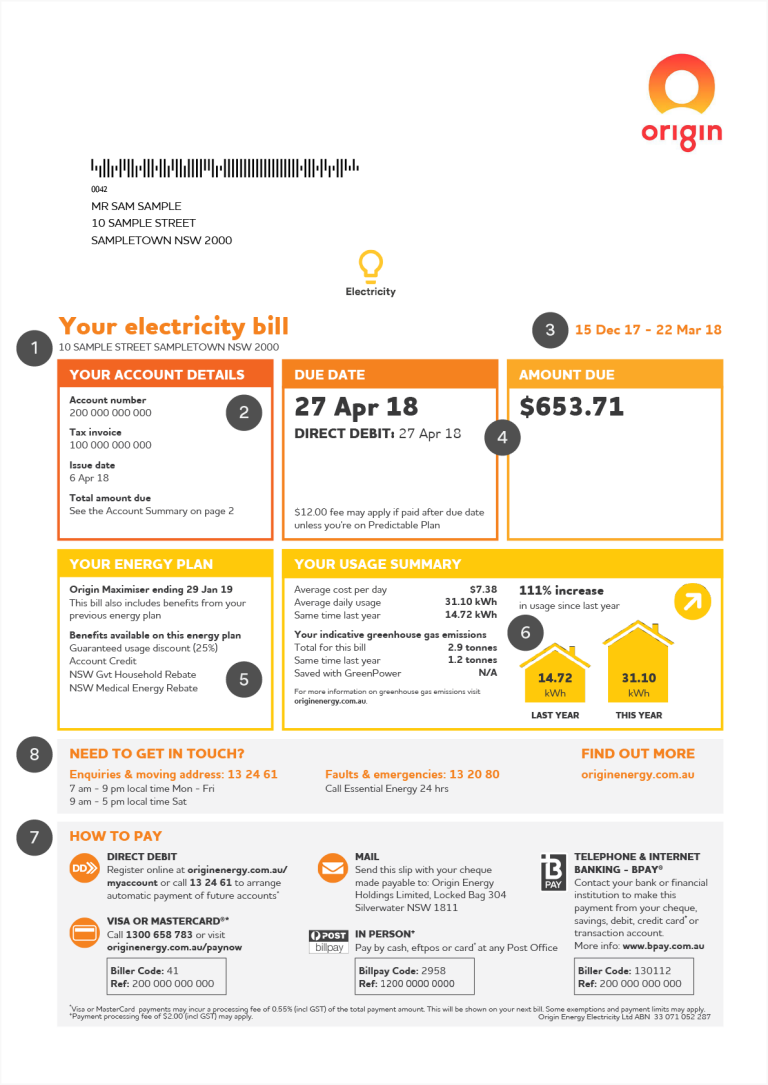 Here's a quick guide to the information you'll find on your bill:
1. Your supply address
The supply address for the bill sits between the bill heading and 'Your account details'.
2. Your account details
This includes your account number, tax invoice number and bill issue date, which is within a few days of the end of the billing period.
3. Billing period
This is the date range covered by this bill.
4. The due date and the amount due
The 'Due date' and 'Amount due' panels show how much is due and when you need to pay it. If you're on a plan that has a pay-on-time discount, you'll see it here too.
There are many variations that can show up in this area, for example, it looks slightly different when:
an account is in credit or doesn't have an amount owing

an account is overdue or has an outstanding amount due

there's a payment plan on the account or the account is paid by direct debit.
5. Your energy plan
This area shows the plan or agreement you were on when we issued your bill, and includes the plan's end date if there is one. You'll see any discounts that are available on your energy plan and any rebates that apply to you.
6. Your usage summary
This handy graph gives you a quick view of your usage compared to last year, and steps out your average cost per day and daily usage. You can also see your greenhouse gas emissions for the energy you use and how much you've countered emissions with a green product if you have one. The unit of measure for your state displays in the graph - for example, electricity in Queensland is measured in kilowatt hours. If you have natural gas in Western Australia, you'll see that your gas is measured in megajoules and appears as MJ on your bill, and then we apply a conversion that results in you being billed and charged in units.
7. How to pay
All your payment methods are shown in this area, including any payment fees that may apply.
8. Need to get in touch?
Here you'll find our contact numbers and hours of operation, your network distributor's faults or emergencies number and our website details.
9. Account summary
The activity on your account for this billing period displays in the 'Account summary' section, including any payments we've received, your new energy charges, and any other charges and adjustments like payment fees, account credits, solar charges or credits for solar feed-ins where this applies to you.
On the right hand side of this summary, you'll notice the orange icons with letters in them – they indicate that you'll find more detail about the line item on the bill in another area. For example, in the 'Account summary' panel, the payments received line is marked with an 'circular orange A' – then if you look at the panel below the account summary, you'll see it's called 'Payments received makred with a 'circular white A'.
10. Payment received
This panel lists payment dates, how you paid and the amount you paid for the billing period.
11. Total electricity (or natural gas) charges
This is a comprehensive breakdown of your energy use and charges, shown in the units of measure outlined by the fuel type you're being billed for and your state's energy regulations – for example, gas in Victoria is measured in megajoules. In Western Australia, your gas is also measured in megajoules and appears as MJ on your bill and then we apply a conversion that results in you being billed and charged in units. Any rebates or discounts are also shown in this section.
Your site details - show your supply address, your meter number (which measures usage at your property) and for most meter types, your last and next meter read date. If we've been able to read your meter for this bill, the read type is marked 'Actual' – and if not, it's marked 'Estimated'.
Your rate: refers to the pricing structure, or tariff, for your supply address – for example, General Domestic or Time of Use.
12. Need to get in touch?
You can call, email or write to us using these details.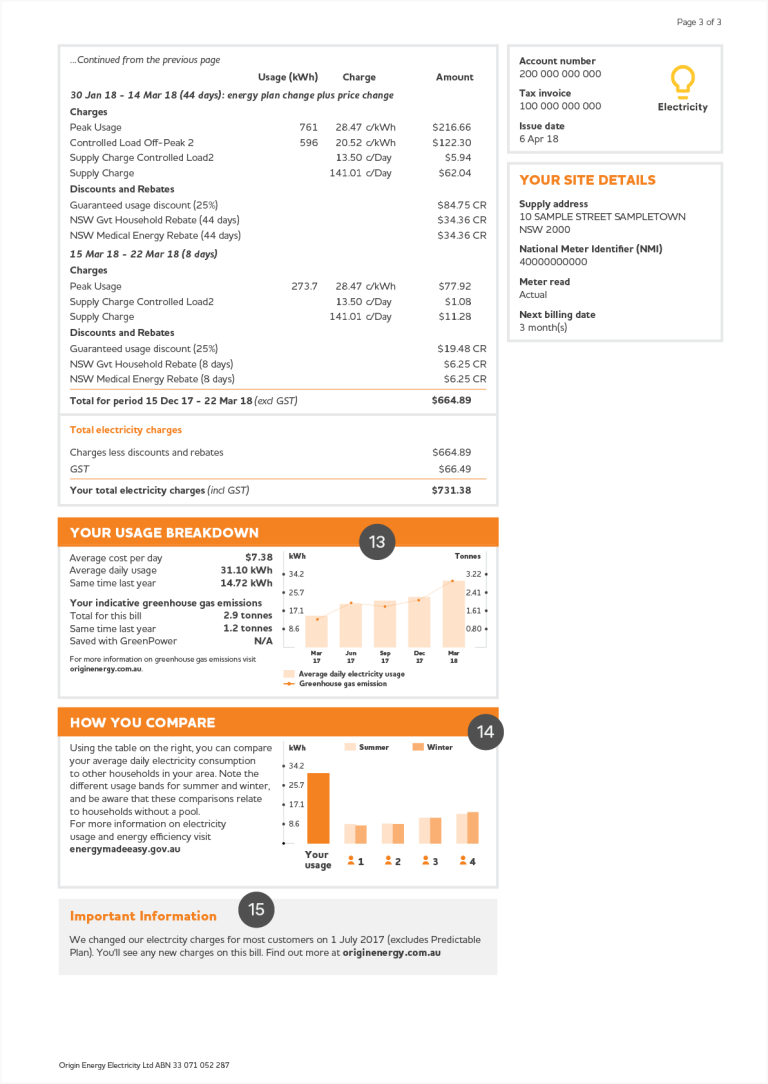 13. Your usage breakdown
This panel provides you with your average cost per day and the average amount of energy you've used per day – it also gives you a comparison to last year's usage, along with information about your greenhouse gas emissions and what you've saved if you have a green product.
The graph shows these details, stepped out by billing period – so you can see at a glance if you're using more or less energy. The line on the graph indicates your average greenhouse gas emissions over time.
14. How you compare?
This graph shows up on electricity bills, and provides you with the average daily electricity consumption for other households in your area.
If you have a smart meter, you'd also see the average daily usage costs, broken down by smart meter tariff components like 'peak' and 'off peak'.
Why not get inspired about reducing your energy usage? Visit our Energy efficiency page for helpful tips.
15. Important information
From time to time we'll include messages at the end of your bill. We use this area to communicate important information to you – like if we're changing a fee, or if your contract terms are changing.
Origin Bill image is for illustration purposes and is indicative only.