Access information online, when you need it.
Reports are easy to understand and there are helpful tips to help you get the most from the energy you use.
timeline
Data visualisation at site level
Download your interval-usage reports to stay on top of your consumption.
playlist_add_check
Keep track of energy spend
Access historical bills and link to our online payment portal.
people
Allow team access
Up to 10 members of your team can access the reports they need.
find_in_page
Detailed articles to help
Get helpful tips when you need to relocate your site, or what to look for when renewing your contract.
Logging into My Business Account for the first time?
If your business is new to Origin, we'll send you an email with your My Business Account login details. Don't forget to check your Junk folders for an email from MyBusinessAccount@originenergy.com.au


Not a large business customer?
For your residential or small–medium business accounts, log in to My Account.
---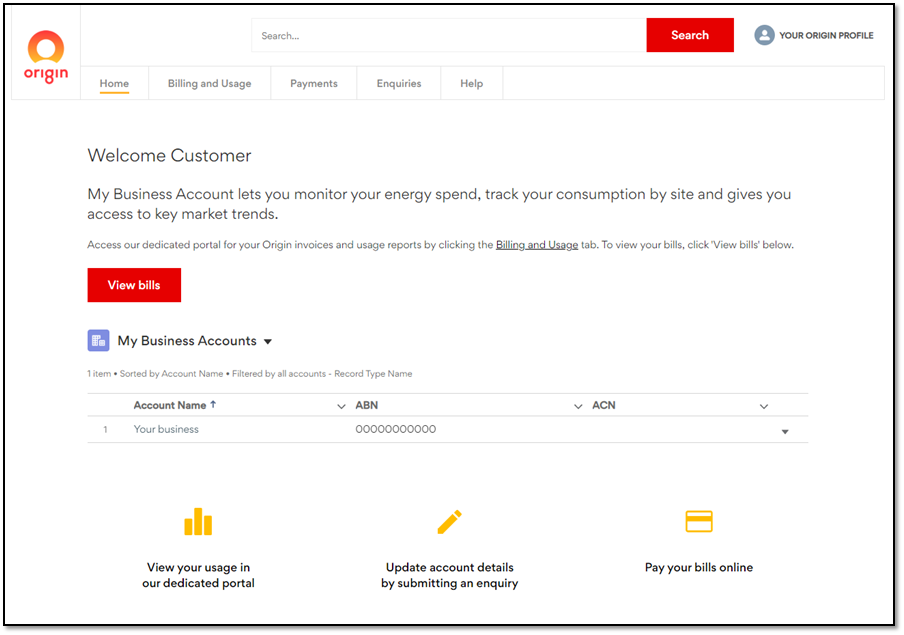 Welcome to My Business Account
When you first log in, you'll see this homepage that directs you to all the reports available in the portal.
Reports include:
Interval usage data that can be filtered by site, by time or by date range
Estimated greenhouse gas emissions
Electricity market prices as per the ASX
---
What's the difference between My Account and My Business Account?

My Business Account is specifically designed to service our commercial, industrial and large business customers.

If Origin supplies electricity to your small business or home, it's likely you have access to My Account. You can have access to both My Account and My Business Account.
How do I know if I'm a large or small business customer?

Here at Origin, we define a large business as customers that use around 100 megawatt hours (Mwh) of electricity, or spend more than $30,000 per year. For natural gas, our large business customers typically use over 1 terajoule (TJ) per annum.
My contract is ending, can I still access My Business Account?

Your access to My Business Account will continue for 90 days after your final billing date, giving you time to download any bills or data you need for recordkeeping.
Where can I find how Origin collects, uses and holds my personal and credit-related information?

For Privacy information and our Credit Repprting Collection Statement, go to our Privacy policy.