December 2018
Every month, we'll share our views on the energy market and outline the headlines that can impact the supply and price of energy.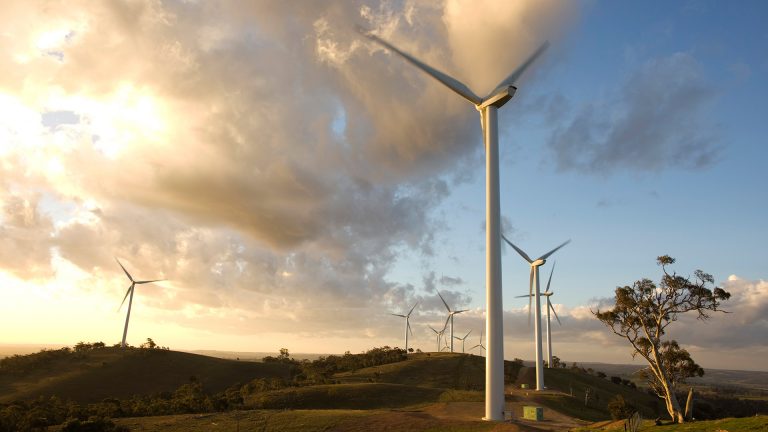 The electricity market this month
Finlay Macdonald-Stack, Portfolio Trader, Trading Operations
Demand increased in all states in December as summer conditions caused some very high demand days. The largest increase occurred in the southern part of the NEM, where VIC and SA experienced concurrent days of +35 degrees on five occasions.
QLD also experienced a heat wave in mid-December that caused volatility. However, average prices in all states came down due to high baseload availability and the impact of the post-Christmas period.
Despite this, price volatility increased with several +$10,000 spikes. In QLD, there was one instance where price went to the market price cap and demand response was used by AEMO to manage conditions, as demand was nearing capacity. In VIC and SA, spikes of +$10,000 occurred on high demand days when wind was low to moderate.
Electricity news headlines
13 December: Severe thunderstorms caused a loss of power throughout the NSW central coast to approximately 28,000 homes. Power outages also caused trains to stop running throughout the greater Sydney area.1
18 December: The Australian Financial Review ran their annual Chanticleer survey, asking Australian CEOs questions on energy and the economy:
Q. Are you using or planning to use artificial intelligence or data analytics? How will it change your business?
A. "We're also using AI extensively in our generation and retail businesses; for example, it's allowing us to shift energy use from high demand to low demand periods for some of our large customers, helping them save."
Frank Calabria, Origin Energy
19 December: COAG Energy Council agreed to the legislative changes to implement the Retailer Reliability Obligation. The scheme is intended to start on 1 July 2019.
21 December: The Australian Energy Market Commission released its 2018 Residential Electricity Price Trends Review, identifying key pricing trends for homes in Queensland, NSW, Victoria and Tasmania to 2021. The report finds that wholesale costs are predicted to fall due to existing and planned new generation and battery storage, with forecased electricity demand flat. The cost reduction is expected to be larger than any increase in network costs and associated environmental costs.
Based on current regulatory decisions by the AER and ERA, network costs are expected to increase in NSW, ACT, Victoria, South Australia, Tasmania and Western Australia to 2020-21. Network costs are expected to decrease in South East Queensland and remain stable in the Nothern Territory. In 2017-18, network charges represented from 30 to 51 percent of a typical residential elecitricy bill.
Is your business paying the most appropriate network tariff?
Send an enquiry for your FREE Network tariff review.
27 December: Heatwave conditions were experienced along the east coast, with temperatures exceeding 40 degrees over five consecutive days in some regions.2 Kerang in Victoria reached 44.3 degrees on Boxing day. The Bureau of Meterology predict a continuation of similar levels throughout January 2019.
Ricky Kennewell, Portfolio, Trading Operations
Elevated temperatures across the east coast continued into December leading to higher gas-fired generation. Coupled with the QLD LNG projects operating at high utilisation, gas pool prices continued to trade at elevated levels with the average Victorian price settling at $10.14/GJ.
The December price settled at the highest of 2018 and was 51% higher than December 2017.
Iona Underground Storage also operated at high utilisation with participants taking the opportunity to pack storage position as mass market demand rolls off. Despite higher pool prices, Iona increased by 3.2PJ to end the year at 15.2PJ, 2.4PJ lower than the start of 2018.
News headlines
12 December: ExxonMobil and BHP made the final investment decision to develop the West Barracouta project in Bass Strait with gas production expected to commence in 2021. The joint venture is expected to produce 128 billion cubic feet of gas to the market.3
14 December: The Northern Gas pipeline, running from Tennant Creek in the Northern Territory to Mount Isa in Queensland was officially opened. Gas will start flowing in January, with the pipeline capacity of up to 90 terajoules of gas per day.
News headlines
11 December: A project to store energy generated from biogases in silicon will be piloted in SA. Partly funded by SA's Renewable Technology Fund, the first commercial pilot will be used in Glenelg Wastewater Treatment Plant.4
15 December: As part of the United Nations Climate Change Conference in Katowice, Poland agreed to many of the detailed rules underpinning the Paris Agreement including the monitoring, reporting and verification of national emissions and targets. Decisions on the rules for international offsets has been deferred until the next meeting which occur in Chile in early 2020. There will also be further discussion on how to increase the ambition of national targets over time.
18 December: The Australian Renewable Energy Agency (ARENA) announces the funding of Santos' pilot project to convert 208 fuel pumps across the Cooper Basin to run on solar energy and batteries.6 The project is expected to eliminate transportation and production costs of 140 barrels of oil a day.
18 December: The Queensland Government launches its new, publicly owned clean energy generator CleanCo. CleanCo will "build, construct, own and maintain renewable energy generation."
19 December: The Victorian Government announces the Victorian Hydrogen Investment Programme, funding initiatives to grow Victoria's hydrogen industry with the view to export renewable technologies to markets like Japan and Korea.
Number of days each year where the Australian area-averaged daily mean temperature is extreme or temperatures in the warmest 10 per cent for that month.
Source: BOM State of The Climate 2018, p.4
20 December: The Bureau of Meteorology and CSIRO report; State of the Climate 2018 was released. Among its key findings, the report highlights that Australia's climate has warmed by just over 1 degree since 1910, leading to an increase in the frequency of extreme heat events.
21 December: According to the AEMC's 2018 Residential Electricity Price Trends report, 9732 MW of new generation and battery storage is expected to enter the NEM in the coming 3 years, with the major contributor being new large-scale solar and wind generation. New thermal generation and upgraded existing generators will also contribute to total new generation.
Can your business benefit from a long-term supply agreement through Renewable PPA's?