Quarterly energy market report
It helps to understand energy trends and key market events that can impact your energy prices and supply.
Quarter 3
October 2021
With so much information, it can be difficult to know where to start.
Our quarterly report breaks down industry trends and market news that may help explain elements of your bill, new legislation, or illustrate emerging energy technology.
But there's more to energy than just reports. We'll share Origin news and key insights from our teams, so you know the steps we're taking to help make energy more affordable, more sustainable, smarter and easier.
---
Our insights
Learn about the ups and downs of the electricity and gas markets from our portfolio trading team.
Energy reports
For the period 01 July to 30 September 2021
The much-awaited report on climate change, released in August, discussed the impacts of global warming, confirming a 1.09℃ increase in the earth's temperature since pre-industrial times and many irreversible changes such as the rising sea levels and melting glaciers. Based on the report, roughly 85% of CO₂ emissions are from burning fossil fuels. The remaining 15% are generated from land use change, such as deforestation and degradation. According to the IPCC, limiting human-induced global warming to a specific level requires limiting cumulative CO2 emissions, reaching at least net zero CO2 emissions, and strong reductions in other greenhouse gas emissions. Strong, rapid and sustained reductions in CH4 emissions would also limit the warming effect resulting from declining aerosol pollution and would improve air quality.
This annual report by the AEMO forecasts changes in electricity demand, expected changes in generator availability and the impact of solar PV, electric vehicles and other technologies on system demand and supply adequacy over the next 10 years. It is anticipated that 77% of our electricity demand will be supplied by solar PV systems by 2026. AEMO is collaborating on engineering solutions to manage this transition and address the challenges this may pose to the NEM, which is currently not designed to operate with large amounts of energy coming from sources that AEMO can't see and adjust at every minute of every day.
Other trends depicted in the report include increased demand for electricity, replacing other sources of fuel and hydrogen taking off as a fuel option.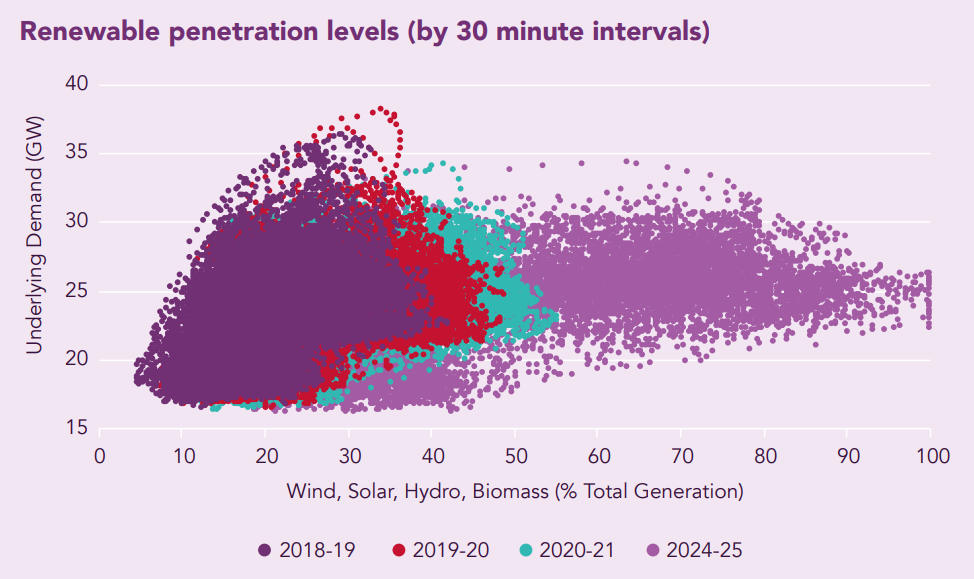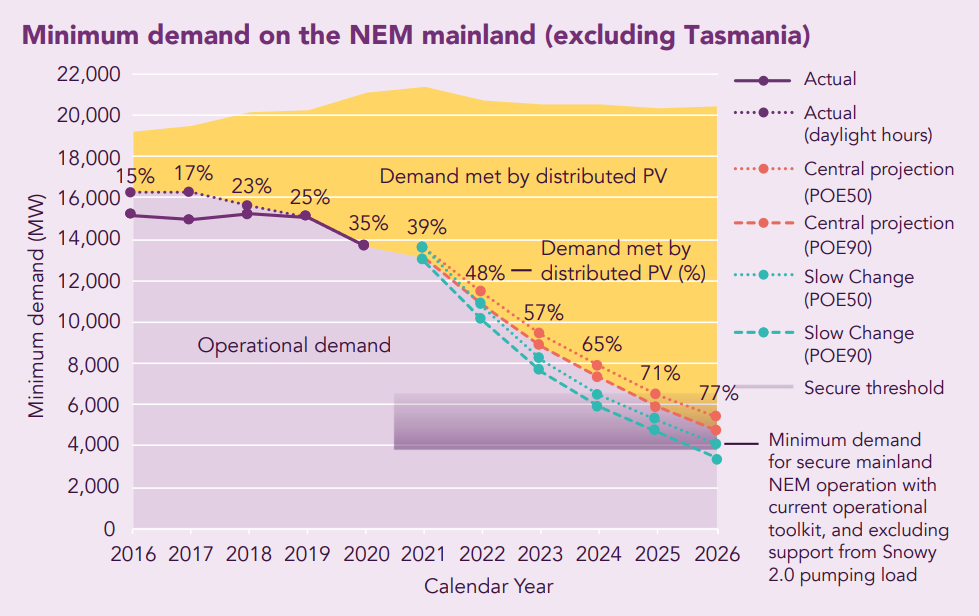 ---
Market movements
Prices for Australian carbon offsets have increased by 21% this year despite the lack of formal net zero emissions targets, bringing the price to $20 a tonne. The European Union, on the other hand, has seen the price surge by over 75% (this is more than three times the growth since March 2020 and is due to increased demand from buyers and their ambitious 2030 emissions reduction targets). Chris Halliwell, co-founder of TFS Green, Australia's largest Australian carbon credit unit and carbon transaction firm notes:
"[in Australia] There has been an audience of new participants in the market in recent times – more financial types, more institutional types expressing interest as intermediaries and traders, as opposed to … natural liable parties. They are anticipating it is going to be more of an established commodity market in its own right."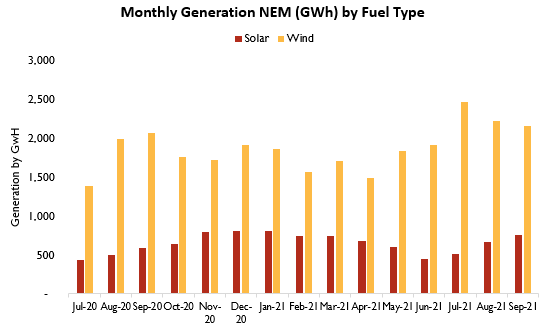 Japan, the biggest buyer of Australian coal, has outlined plans to sharply cut carbon emissions in its energy mix by ensuring that 60% of their energy demand is met by non-fossil fuel power sources. They predict that their coal and LNG forecasts will fall by 40% and 50% respectively, in the next nine years. This marks another step in the global transition from fossil to lower carbon fuels and could open up new opportunities for Australia's oil and gas producers in the longer term with the exploration of hydrogen production, as a replacement fuel for gas.
Last quarter saw Victoria in an 'energy emergency' due to damage caused to the Yallourn power station. According to AEMO, this damage could potentially threaten a reliable energy supply during the upcoming Victorian summer.
The Offshore Energy Infrastructure Bill, introduced in Parliament, will create a regulatory framework for the construction, operation and maintenance of electricity infrastructure offshore. The first project to launch as a result of this bill will be the Star of the South in Victoria, based off the SE Gippsland coast, with a potential to provide 20% of Victoria's energy needs.
Australia's largest integrated construction materials company, Boral, is the first company in the cement sector to set science-based targets and aim for a 46% Scope 1 and 2 emissions reduction by 2030 from a 2019 baseline. The company aims to move towards renewable energy sources and expand their suite of low carbon products which Include ENVISIA, Envirocrete and Envirocrete Plus.
Victoria is on the path for a more resilient renewable energy future. In addition to their transition from coal-fired power to large scale renewables, the state is undergoing an update in transmission networks to be able to handle new technologies like batteries and renewable generation as well as the impact of climate change. AusNet's General Manager infrastructure, Damien Sanford, says:
"Understanding how to interface the new with old technology is key. New transmission must also provide balance to the overall system…In order to deliver the next generation of sustainable energy supplies, companies like AusNet must also balance the needs of the communities that host the new infrastructure. Working closely with communities is an integral part of the transition as renewable projects and other critical infrastructure are visible in a much wider number of locations than in the past." [AFR]
---
As a leading energy retailer, producer and explorer, we know that what we do can impact our customers, our communities and the planet.
Origin and major global shipping company, Mitsui O.S.K. Lines Ltd. (MOL) will jointly investigate opportunities to develop a supply chain to support export-scale green ammonia in Australia under a new Memorandum of Understanding.
Positive results from extended production testing at the Amungee NW-1 well in the Northern Territory's Beetaloo Basin have increased Origin's understanding of the Velkerri dry gas play. Origin General Manager Beetaloo and Growth Assets, Mr. Chris White comments:
"These results significantly increase our assessment of potential deliverability and commerciality of future wells in this area. While further work will be required in coming years to determine if the result can be reproduced on a larger scale, this result indicates the Velkerri dry gas play may be in line with commercial shale plays around the world, based on normalised production rates."
As one of Australia's largest electricity generators, we believe the sector, and our company, should be at the forefront of reducing emissions. Our latest Sustainability Report measures our annual performance through the lens of
Our customers: delivering great customer experiences and providing affordable, sustainable and smarter energy solutions
Our communities: employing people across Australia and the Pacific and supporting educational opportunities through the Origin Energy Foundation.
Our planet: outlining our journey towards decarbonisation; and
Our people: creating a purposeful workplace that is guided by our core values.
Origin will invest an additional £38 million (~A$70 million) in Octopus to maintain its 20 per cent equity interest in the company. Octopus Energy will continue its rapid expansion, with a fund managed by leading sustainable investor Generation Investment Management to invest £211 million to acquire approximately 7% of the company. Our CEO, Frank Calabria says:
"Since our investment in May 2020, Octopus has emerged as a global leader in energy retailing and technology, achieving significant growth in its home market and expanding into several international markets. Origin's additional investment demonstrates our confidence in Octopus' strategy, management team and growth prospects… Our exposure to Octopus' continued success is expected to be an important avenue of growth for Origin."
Our Customers
JB Hi-Fi moves towards a cleaner way to power their stores
For large businesses, solar can be a great way to reduce grid associated energy costs and meet sustainability targets. Our teams work with large commercial and industrial businesses across Australia; providing guidance from the initial solar quote to installation. Over the last 15 years, we've delivered 2,100+ solar projects and installed 76MW of systems for Australian businesses. An increasing number of customers are approaching Origin for clean energy solutions and greater insight into the energy they produce and use.
The JB Hi-Fi Group made a commitment to reach net-zero direct (Scope 1 and Scope 2) carbon emissions by 2030*. As a step towards this goal, they engaged us in installing a 160 kW solar system at their new Chadstone Homemarker Centre store in Victoria.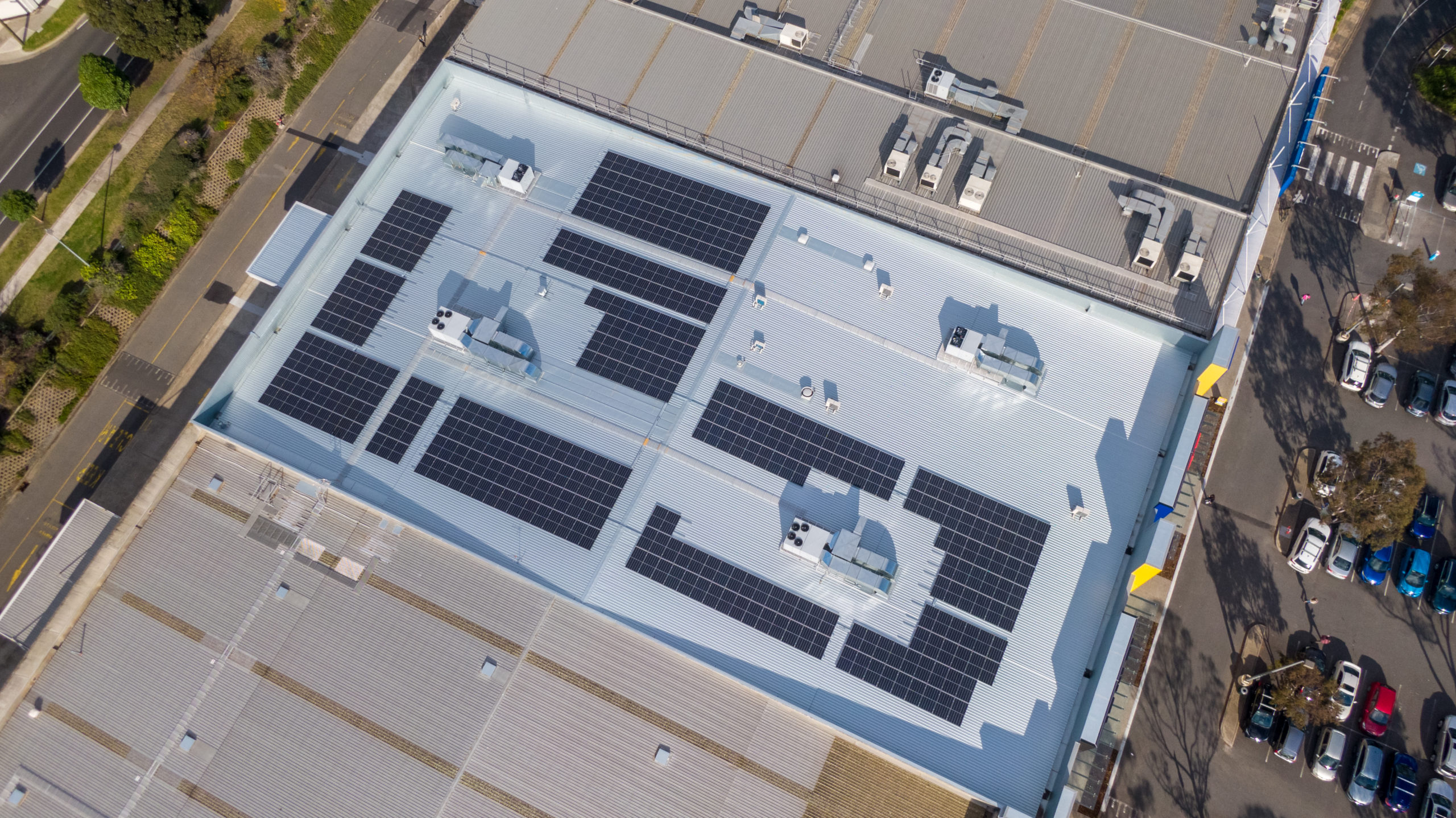 To monitor and track performance, the Origin Future Energy team built a live in-store smart energy dashboard that displays how much solar power is being generated, how much energy is being used and how much CO2 is avoided by using solar. This is a great way of demonstrating commitment and being accountable for the performance of our product.
This is only the beginning of our engagement with JB Hi Fi. We'll be partnering with their business on a national solar system and smart energy dashboard roll-out in the coming months. We are also conducting carbon assessments to help JB Hi-Fi further reduce their environmental footprint to achieve their net zero goals.
*Source: JB Hi Fi 2021 Sustainability report
---