Looking into adding a battery to your existing solar system? Or perhaps you're considering a solar and battery bundle? Our Virtual Power Plant offers an exciting option for a limited number of customers.
Many customers with solar systems are now thinking about adding a battery to their system. A battery helps to get better overall output from solar panels and maximise energy independence.
For Victorian customers, Origin's Virtual Power Plant offers a significant upfront discount, and the opportunity to join a new community of energy users.
What is the Virtual Power Plant?
With the support of the Victorian Government, Origin's developing a 5MW Virtual Power Plant by connecting over 600 households using solar panels, batteries and software to manage demand and energy flows.
A Virtual Power Plant is a network of connected energy-generation and storage sources, like solar PV and batteries. These assets are linked by cloud-based software technology that monitors performance and controls when energy is dispatched to the National Electricity Grid.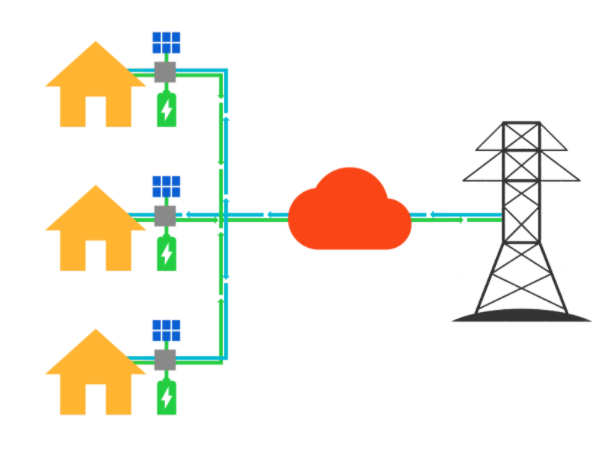 What are the benefits of a Virtual Power Plant?
Virtual Power Plants like this one will help customers optimise how they use assets like solar PV and batteries. This can help unlock savings and reduce the stress placed on the electricity network.
Importantly, this can also help reduce carbon emission levels by using more of the renewable energy that solar panels can generate at different times – like at night when the sun isn't shining.
We believe in making energy more sustainable, and we're excited because this project delivers the option of more affordable batteries to our Victorian customers.
On the season finale of our So Watt? podcast, we delve into virtual power plants and the benefits for customers
How can I join the VPP?
If you're a customer with a solar system of 5kW or bigger, call us on 1300 791 468 and we'll assess if a battery will work on your site.
In exchange for the great battery discount, we may charge and discharge energy from your battery to the grid. For example, we might do this during a time of peak electricity demand, when it's needed most.
You'll also be helping to trial new solutions in the energy space, and the power supply to your home won't be affected. We'll also pay you to do this.
Do I need an existing solar system to join?
If you don't have solar, don't worry. We can check your home's suitability for solar and battery bundles and if it all checks out, you can still access the same great discount.
How do I access the discount?
It's simple. If your home is suitable, the discount on the battery is added as soon as you buy it. We'll need you to remain on our VPP for five years. There's no rebate, no means testing or lengthy sign-up process.
Be quick! This offer will end once all 650 households are connected.
We're excited about the future of energy, and the VPP may mean you're closer to a new battery than you thought.