Hosting on New Year's can be stressful enough with the pressure to make the night memorable, but seeing out another challenging year? Well, that adds its own unique layer. That's why we've put together the ultimate guide to farewelling the tumultuous year that was and ringing in 2022 in style.
Decorations
Start off by planning out the vibe you're going for.
If you're into themes, perhaps a black-tie or glitz-and-glamour theme might be a good option this year (given most of us have once again spent a lot of time in loungewear or PJs).
Want to inject a bit of humour? Fancy dress might be the way to go – you can even set up a dress-up station as guests walk in with novelty glasses, ties and hats so it's easy for them to get in the spirit. Themes and fancy dress not your jam? Think classic touches like gold and silver garlands, glitter votive candles, banners and streamers.
Bites
Food and drinks are arguably the most important part of the evening. If your event is low-key, consider having a BBQ dinner. This is a great way to serve up a hearty meal and keep the hunger pangs at bay during the evening – and also a great way to save energy.
If you're going for a more cocktail-style event, make sure you have food ready at regular intervals. Start with light nibbles as your guests arrive; think grazing boards, seafood, chicken skewers – anything that's light and easy to eat while mingling.

As the night goes on, opt for more substantial options like burger sliders, noodle boxes, meatballs or set up a taco station. The best options are those that can be prepped beforehand so you can mingle instead of getting stuck in the kitchen.
Lastly, whether you're going for the BBQ dinner or finger food, think about some post-midnight snacks for the stragglers and night owls. A great approach is to opt for frozen canapes that can easily be thrown in the oven. Think prawn twisters, filo triangles and spring rolls.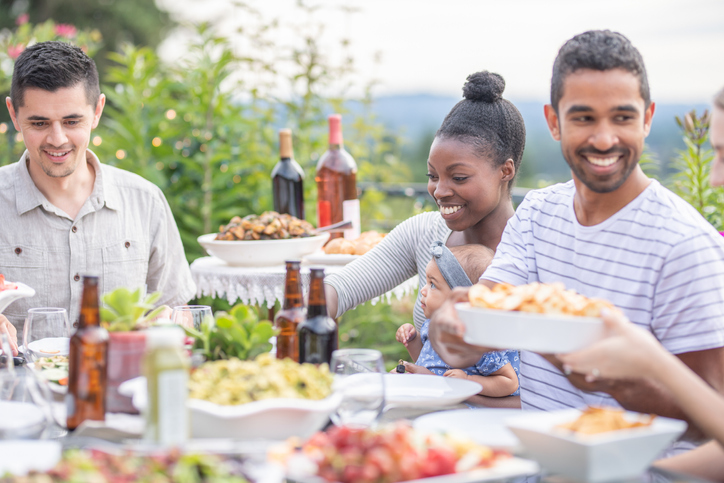 Bubbles
Dazzle your guests by trying your hand at mixology. Choose a signature cocktail or mocktail for the evening, break out the fancy glasses and set up a bar space. Write down the cocktail recipe and leave it on the bar for your guests to recreate. You can even lay out some umbrellas, fruit slices or maraschino cherries to garnish them with. As cocktails can be a little more indulgent, ask your guests to each bring an ingredient, so that you don't blow up your budget.

Most guests are usually happy to BYO their own drinks as well, so if you've popped this on the invitation, make sure you have plenty of fridge space or eskies and ice.
Tunes
To keep everyone's energy levels high in the lead-up to midnight, make sure you've got plenty of tunes that will get people swaying.

Curate a playlist for the night and involve your loved ones by making a group playlist on Spotify – this makes sure everyone will have something to get them on their feet! You could also create a 2021 playlist filled with all the hit songs from the year that was. After the event, your guests can revisit the playlist to remember the party.
Bring the laughs
Worried about running out of things to talk about? Add in some board games that suit your group's sense of humour.

Pictionary's a great game for groups – squeals of laughter abound while questionable drawing skills are on display! Find a decent-sized whiteboard so everyone can enjoy the hilarity, and create plenty of memories in the process.

Speak Up is another favourite, watching the members of your group try to get out a full sentence with their lips around their ears is bound to result belly laughs.
Take a moment to recap the year
Okay, maybe skip the full recap and just focus on the highlights.
Ask your guests to send you their favourite photos, quirky snaps/stories and funny videos, and pull together a slideshow filled with the joy everyone found this year. You can also ask people for their own personalised quote that describes 2021 and pepper those throughout the show.
Halfway through the evening, ask your guests to gather around the TV and have a screening of everyone's most memorable moments.
Capture the memories
Don't forget to snap some memories!

If one of your friends loves taking photos, ask them to be the resident photographer for the evening. You could also set up a photo station with props and backdrop and ask your guests to use a signature hashtag on Instagram so you can relive all the fun moments on New Year's Day.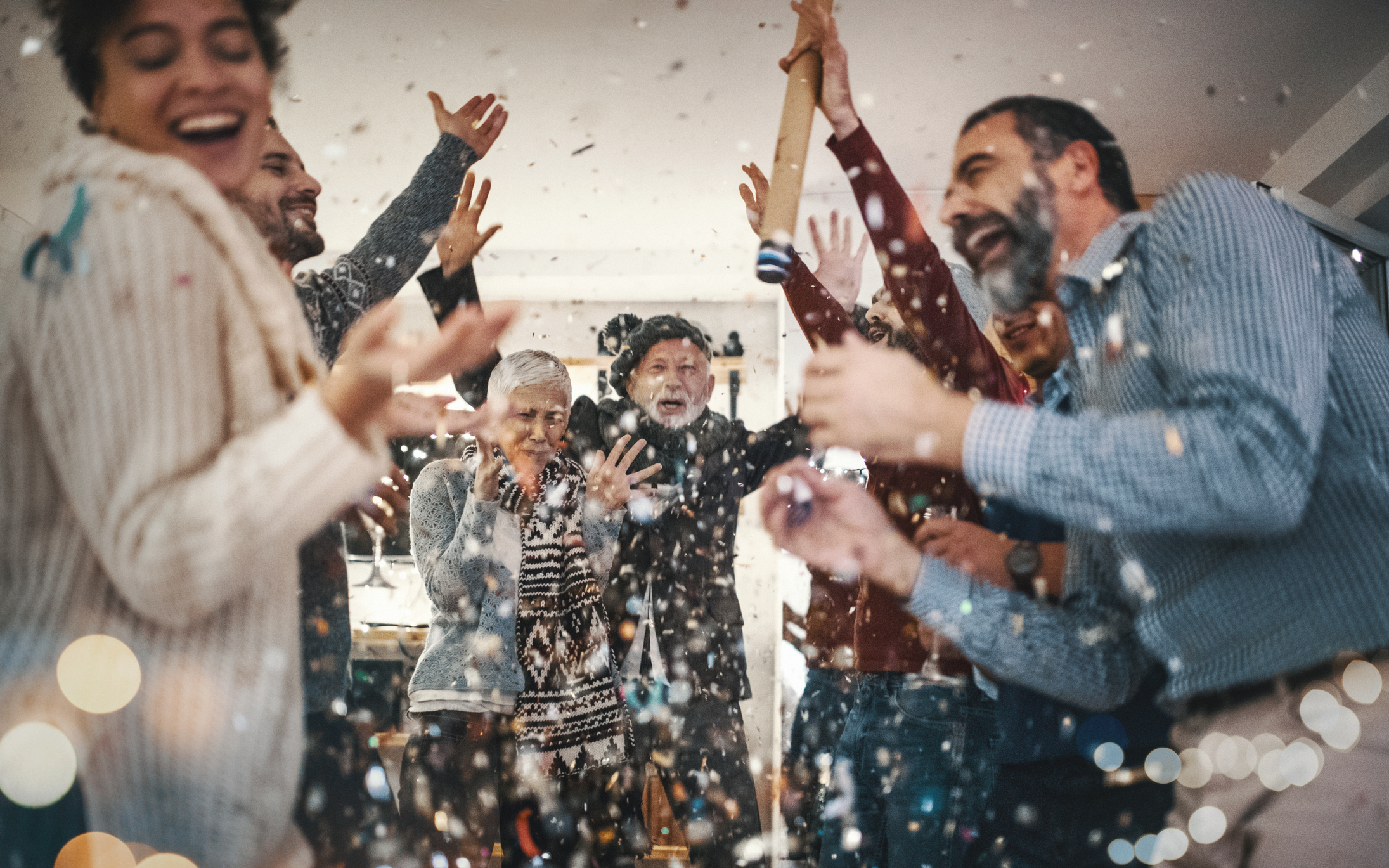 Countdown
This step is important! Make sure to have the TV either on in the background, or set a reminder on your phone, as you approach midnight. Don't miss the countdown or the fireworks!
Keep some sparklers and poppers nearby so that everyone is ready to go when the clock strikes 12!
---
However you choose to celebrate this New Year's Eve, please check the guidelines in your state to make sure you stay COVID safe.