We all need a change sometimes, and when we do, we want to it be easy, seamless and most importantly, we want to feel confident in our decision. The same goes for switching energy plans, and with Origin you can trust we'll offer you just that. Don't just take our word for it, get the facts before you switch.
Switching energy providers made easy with Origin
1. Switching energy providers
Switching energy providers has never been easier, in fact, you can make the switch online in less than 5 minutes and we'll take care of everything else. Simply compare our electricity and gas plans, choose the plan most beneficial for your household, sign up and we'll get it sorted.
Switching energy providers won't interrupt your power supply and you won't need to contact your old energy supplier to make the switch.
If you're switching energy suppliers in the process of moving houses you will need to contact your old supplier. Read our moving house guide for more information or book your move online.
2. Once you've made the switch
After you've followed our simple sign up process, we'll let you know when your energy supply has been switched over to us.
If you've switched to Origin at your current address, that's it! There's nothing left for you to do. We'll get in contact with your previous energy provider and let them know so they can send you your final bill. Your energy supply will never be interrupted throughout the process.
As mentioned, if you've switched over while moving house, you will need to contact your old energy provider and let them know you've moved out of your previous property. They will disconnect your old property and send you a final bill.
Once you have an account set up with us, you can head over to the My Account page and register. Through My Account you can see your plan, check usage charges, pay your bills and so much more.
Once you're an Origin customer you can manage your energy 24/7 with the ease and convenience of our award-winning mobile app. Monitor your energy usage, pay bills with just one tap and a range of other features we're continuously adding to and improving on.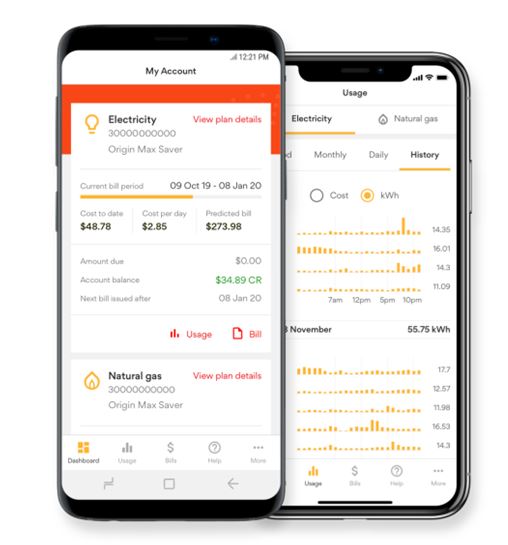 3. Why Choose Origin?
Easy-to-understand plans and pricing
We meant it when we said switching to Origin is as simple as 1, 2, 3. With no hidden fees or lock in contracts you can move with confidence. What's more, you can sign up to Origin in less the 5 minutes online and we'll take care of the rest.
Bundle and save
Save money on broadband when you have electricity or natural gas with us. Whether you're an electricity and gas customer or want to be, it gets better for you. Simplify your providers and save money just by bundling your internet and energy with us.
Our customers want flexibility and simplicity and our range of broadband plans are designed with that in mind. Easy-to-understand plans and pricing extends to our broadband plans too with the added choice of unlimited data on our 12 month, 24 month and month-to-month plans. Take a look for yourself and compare our broadband plans today.
Leading the way in renewable energy
Origin have been a leader in renewable energy for over 15 years. In fact we've put over a million solar panels on rooftops across Australia, more than any other electricity and gas retailer in Australia.
Why Origin?
We want to get energy right for our customers, our community and our planet which is why we're giving it all we can to make energy more affordable, more sustainable, smarter and easier. We like to call it good energy, and we'd love you to be a part of it.