Winter is here, and there's something about a cold day that makes you want to hibernate. 
5 tips for keeping winter bill shock at bay
Finding a few ways to celebrate the winter season may be the best way to banish those winter blues – and keep energy bill panic at bay. Here's some ideas to get you started.
1. Get out the blankets and get cosy
The quickest way to keeping warm in winter is to pull out the woollens. As daggy as fluffy socks seem, when worn with comfy slippers, there's nothing that'll keep your toes toastier. 
Try keeping throw rugs in key locations around the house, like on the couch or in the living room. The instant satisfaction of huddling underneath may even be enough to convince you to keep the heater switched off – saving you a bit of money too. Just don't spend it all at once on your new thermal underwear collection.
2. Cook up some comfort food
Warming yourself from the inside out is a good place to start, and winter offers you a chance to whip up some classics. Soups, casseroles and curries are favourites that will surely please the whole family.
And by preparing these dishes yourself, your house will benefit from the heat generated by your oven or cook top. Aren't you clever?
Try this recipe for spicy sausage pasta for a fresh dinner idea that's ready to go in under an hour.
---
Spicy sausage pasta
A perfect stovetop meal for your family. 
Serves: 4
Preparation time: 15 minutes
Cooking time: 40 minutes
Ingredients
1½ tbs olive oil
1 onion, chopped
2 red capsicum, sliced
4 fresh chorizo sausages, skins removed and chopped
2 tsp cumin seeds
2 x 400g cans diced tomatoes
2 tsp brown sugar
1 tbs red wine vinegar
500g penne pasta
50g feta, crumbled
2 tbs chopped fresh chives
Method
Heat half the oil in a large saucepan. Cook onion and capsicum over medium heat, stirring, for five minutes or until softened.
Meanwhile heat a large frying pan over medium heat. Add remaining oil and cook the sausage meat until golden. Add cumin seeds and cook for one minute. 
Add sausage mixture to saucepan, along with tomatoes, sugar and vinegar. Bring to the boil. Reduce heat and simmer, covered, for 30 minutes or until cooked.
Cook pasta in a large saucepan of salted boiling water following packet instructions. Drain and toss with sausage sauce. Serve sprinkled with feta and chives.
Recipe inspiration: Get cooking on your stovetop with these delicious recipes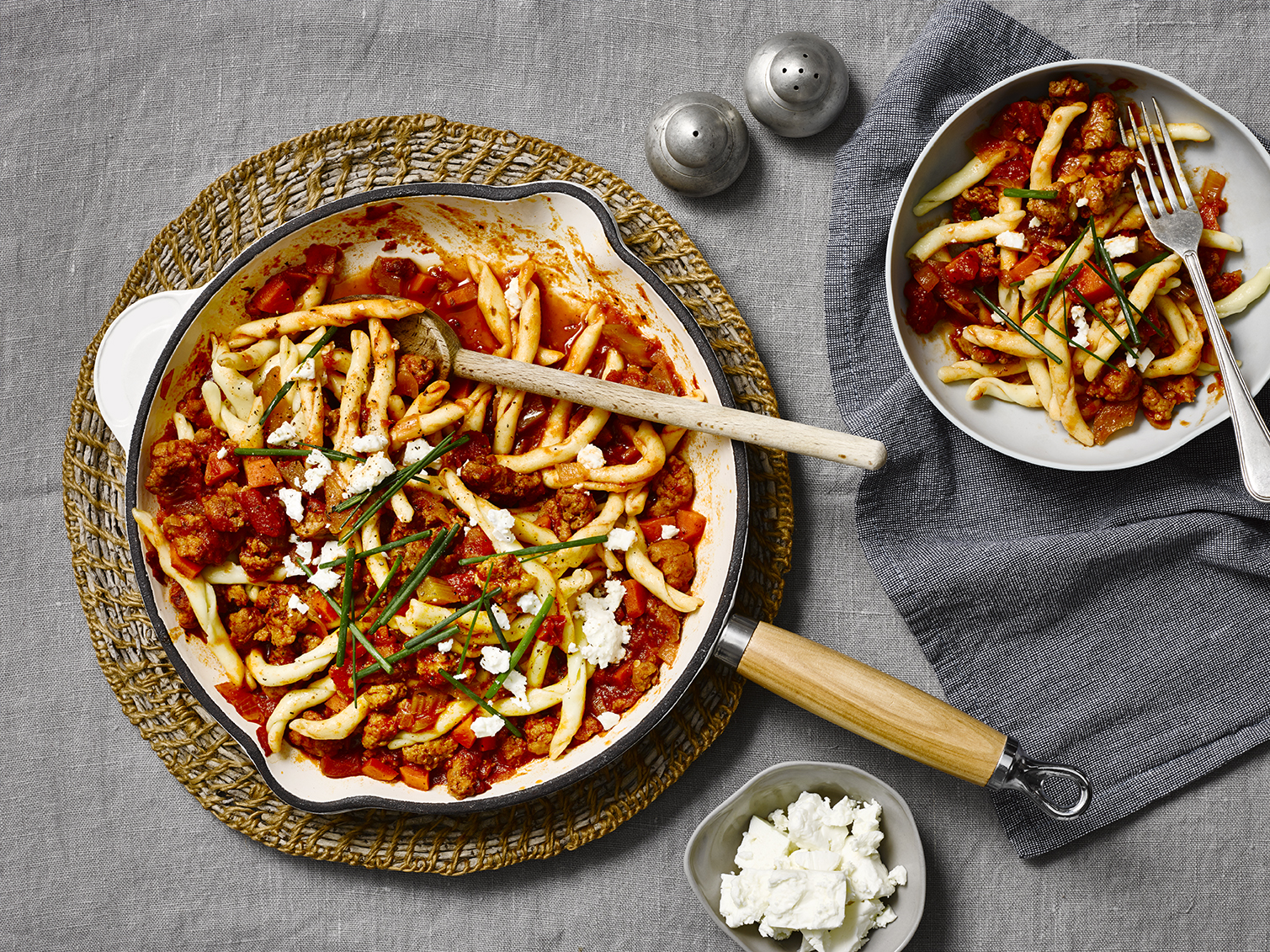 ---
3. Heat the right parts of your house
If you do live in a place that's cold enough to run a heater, think about the areas of the house that need to be kept warm and set the space up to capture the heat. Close the doors to rooms you're not using and install special purpose-built windows and door seals to stop the hot air escaping. And if you're on a budget, don't look past a good old door snake – a handy craft creation to block those drafts.
Explore energy options for your home
 
4. Spring clean, winter style
Who said spring needs to be the time to get organised? With the weather so uninviting outside, take advantage of the warmth inside and use your extra time indoors to do a spring clean of your wardrobe.
Pull out any clothes which don't fit well or which you haven't worn in a while. Be ruthless – if you don't feel good in it, or you're unlikely to wear it again, put it aside to donate charity. If you're unsure about any particular items, move them to a special section of your wardrobe to see if you wear them over the next few months. If you don't, it's time to donate them.
This is the perfect way to free up space for any new woollens you want to invest in over winter. Plus, you'll have the added bonus of feeling organised with your oh-so-tidy cupboard space.
5. Soak your winter blues away
If all else fails, retreat to the bathroom and run yourself a warm bath. It may not quite get you through to September, but it sure will feel good.
Explore Origin's latest offers
Find the right energy deal for your home