On average, Aussies move house every 7 years and with 1 in 5 Aussie households now having solar panels on their roof, it's no surprise that moving into a house with existing solar happens a lot.
Moving house brings with it a mixed bag of emotions – it's exciting but also stressful at the same time. Ultimately the more organised you are, the easier it will be, which is why we've put together some moving hacks to save you a world of stress when it comes to moving day.
But what about if you're moving into a house with solar? It's becoming more commonplace and if you're new to solar, you may be looking for a few clues from those in the know. To demystify and keep it simple. We've put together some tips for moving into a home with existing solar so you can start saving right away.
Moving into a home with existing solar? Here's what you need to know.
Get your existing solar system checked by an expert
Usually when you decide to go solar, a lot of research and consideration goes in to getting the best system for your investment. Buying a house with existing solar sounds ideal – the previous owner has done all the hard work for you.
Though that might be the case, we recommend getting your solar system checked by a solar expert once you've settled in. Solar experts can help you understand how your solar system works, fix any needed repairs and ensure the general maintenance of the solar panels is up-to-date. Book a regular solar system clean and health check with Origin and keep your system running smoothly for years to come.
Find the perfect solar plan for your needs
Moving into a home with existing solar is a definite value-add. Once you're setup, the electricity you use throughout the day will first come from your solar system. Any excess energy you've generated will then be fed back into the grid and a 'feed-in tariff' will apply. With Origin, this appears as a credit on your next bill.
When you're organising to reconnect electricity in your new home, compare our all-in-one solar energy plans tailored to your needs – and tick a few things off your moving checklist at once!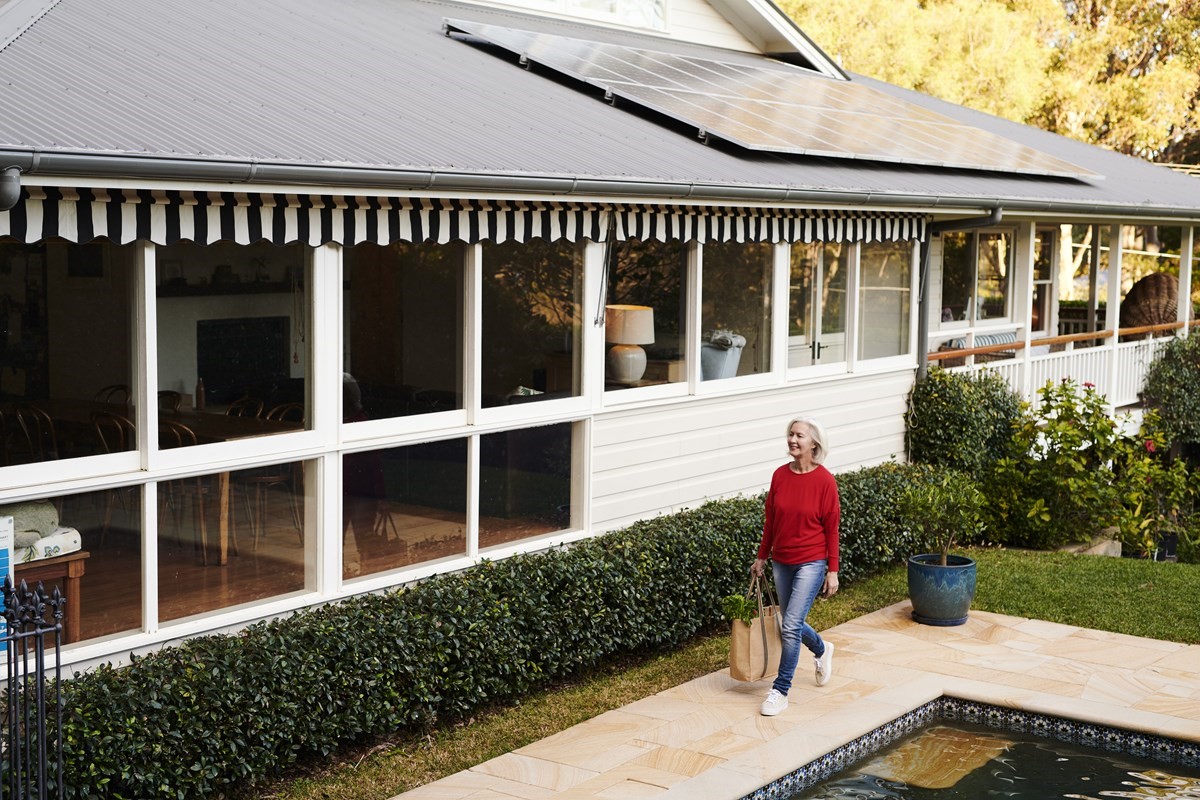 Save even more with a solar battery
Your existing system might've come with a battery-system installed, but if not adding battery storage to your solar mix can really help you maximise your savings. Solar battery storage allows you to store the excess energy generated during the day so you can use it at night, meaning less reliance on the grid.
On top of that, if your system generates more than your solar battery can store, it will be sent to the grid and you'll receive credits on your bill for the amount exported, which means more solar savings in your pocket.
Not sure if you need solar storage? Think about how often you're home during the day.
Do you use more energy at night? You can also ask the seller to give you an idea of how much energy they were generating which might help you decide. Ready to take a look at solar batteries? Check out our battery storage options now.
Leaving your solar system behind?
With solar systems expected to last about 25-30 years on average it's no wonder people often want to take their solar system with them when they move.
Like with any electrical work, it is a requirement by law that solar systems be brought up to the most current code when worked on, and that includes relocating systems. It's likely the Australian standards have changed since your solar system was installed and often bringing the system up to the latest standards includes upgrading the inverter and panels.
Even if your solar system is brand new, the cost of removing the system, transporting it and re-installing it can be very costly, making it cheaper to install a new system than move your old one.
Origin Solar solutions
We've installed over one million solar panels across Australia. From solar packages, plans, batteries and installation, we can find the right solution for you.