A smooth and stress-free move ultimately comes down to a bit of forward thinking and organisation, though it's easier said than done. As you prepare to move house, you're faced with a seemingly endless to-do list and some of the basics are bound to slip your mind.
We're here to make moving easy. We've put together a moving house guide full of the essential things you need to do to prepare for your move.
The top 6 moving house essentials
1. Collect packing boxes
Moving can be costly, but there are plenty of ways to keep moving costs down and that starts with packing boxes.
Save money on buying packing boxes and instead take regular trips down to your local shops leading up to your move. You'll find most supermarkets and local stores are more than happy to get rid of their unwanted boxes.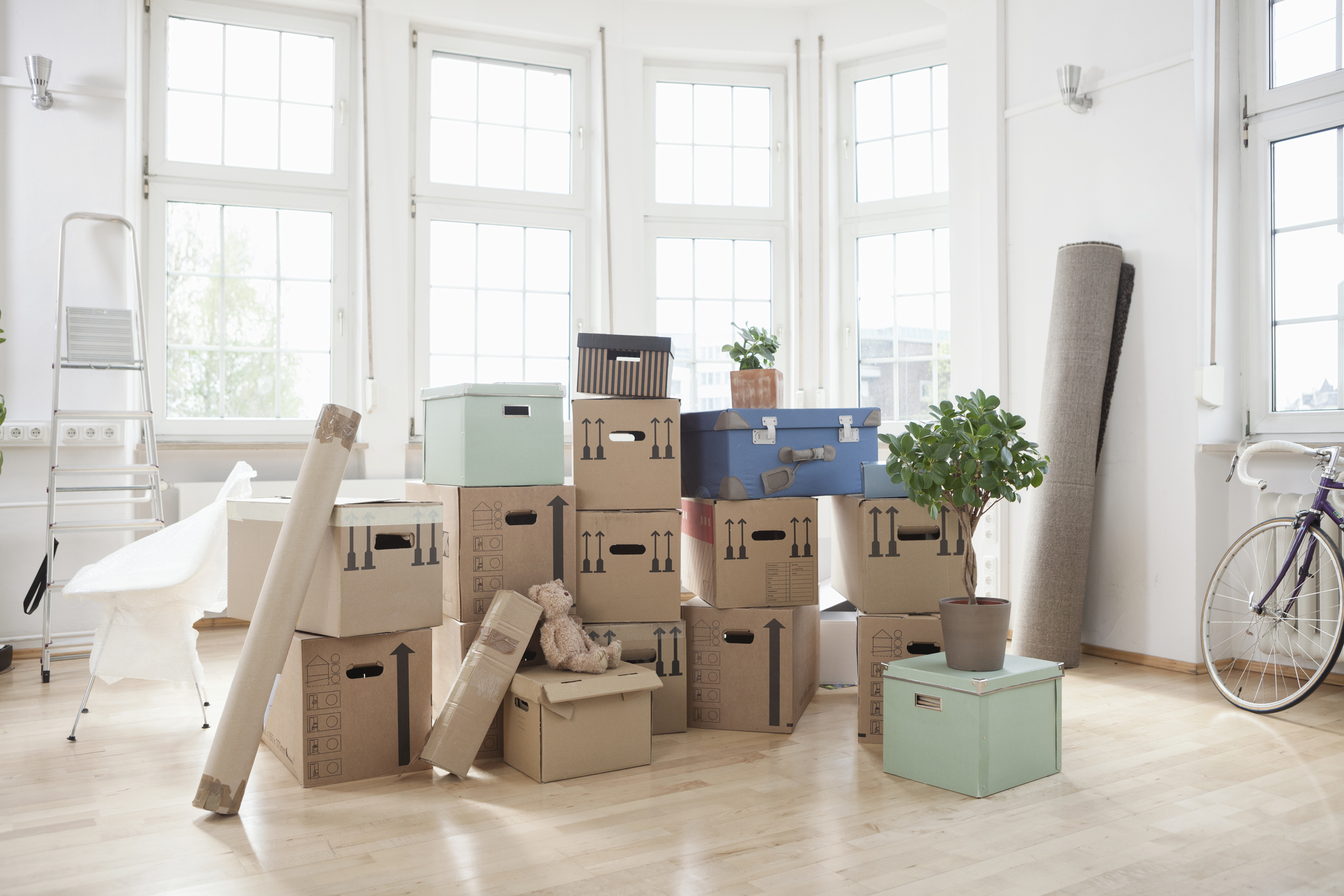 2. Organise a removalist (or enlist the help of your mates)
Hiring a professional removalist service can definitely relieve some stress on moving day, but it's an added cost you'll need to consider.
If you're trying to keep to a budget, think about whether you really need a removalist.
Ask yourself:
Can you enlist the help of friends and family for the move?
Will you be able to transport large pieces of furniture?
Will you need to hire a truck?
Are you under time constraints for the move?
If you don't think you can do it yourself or just want to get something off your plate, hiring a removalist will smooth out the process for you. Shop around for prices and make your booking far in advance.
3. Organise a skip and cull, cull, cull
When you start going through your things, you'll probably realise just how much stuff you have, and there's no better time to get rid of things you no longer need than when you're thinking about packing.
You'll find when you're sorting through what to keep and what to let go of, a lot it's rubbish. It might be worthwhile organising a skip so it's out of the way and you can focus on packing.
If there are items of value you're thinking about parting with, don't throw them away – there are plenty of second-hand shops and charities around that are always looking for donations for those in need.
4. Organise a place for your furry friends to stay during the move
Moving house with a cat or dog? Moving can be really stressful for animals too. If you've got a pet, ask friends or family that are already familiar with your pet if they can look after them for a couple of days during the move.
Once you've found a place for them to stay, visit them with your pet in the lead up to your move so your furry friend can get used to the people and the place they'll be staying in.
Making sure your pet feels safe and comfortable during a move is important, so we've put together a pet moving checklist full of handy tips for moving house with cats and dogs.
5. Disconnect and connect utilities
Disconnecting and connecting utilities is quick and easy, though it can take up to 3 business days do get sorted, make sure you plan ahead so you're not left in the dark.
Once you know your move out date, you can arrange for your utilities to be disconnected and connected to the new property on move in day.
For Origin electricity connections, just let us know about your move before 1pm Monday to Friday and we can ensure the power is on the next business day.
---
Commonly asked questions from our customers
Do I need to cancel my current account?
Yes, we recommend closing your account with us when you move, to ensure you're not financially responsible for the next tenants' usage. Simply let us know you're moving via My Account. It's super quick – we'll just need your new address and move in date, and you can select the date for your current property's disconnection.
Will I have the same account number?
When you organise an account for the new property, you'll receive a brand-new account number. Keep this in mind when you go to pay your first bill.
Do I need to do anything?
To prepare for your utility connections, make sure there is safe and clear access to the electricity meter.
If you live in Queensland or New South Wales, you may need to be at the property to have electricity connected to your house.
Are there any fees?
You may be charged a connection/disconnection fee by your distributor. The fee ranges roughly between $20 and $100 and varies depending on where you live. We'll let you know the exact charge when you book your move online or over the phone.
You can also take a look at our moving fees to find out more.
What if I have a concession card?
You may be eligible for a concession or rebate on your bill if you're the primary account holder on your Origin account and you hold a valid concession card.
Valid concession cards include:
Department of Veterans' Affairs Gold Cards
Pensioner
State Health Care
Queensland Senior
See our concessions and rebates page to find out which rebates you may be eligible for in your state.
How much notice do I have to give to get connected?
Energy connections are quick and easy. Simply book your move online using the form for either new or existing customers before 1pm Monday to Friday and we'll connect your electricity the next business day. Gas connections can take up to three business days and public holidays are excluded.
Have another question? Find more moving house FAQ's here or call 13 MOVE (13 66 83).
Moving house? Let's get your power sorted in minutes
6. Get your internet connection sorted
Get your internet connection sorted ahead of time so when the moving is done you can sit down, unwind and stream your favourite show the day you move in.
To sort out your internet connection early, you'll need to contact your internet service provider at least three weeks before you move in. Your provider will usually be able to offer you the same plan, though pricing depends on where you live and the type of broadband connection available at the property you're moving to. Relocating internet connections may attract a fee so it's a good idea to compare broadband plans under your new address.
Origin's unlimited broadband plans allow you to bundle your energy and broadband in one easy step. By bundling, you save more off every bill and enjoy the ease of having one provider.
Bundle your energy with broadband today and see how much you could save.
Looking for more moving house tips? Take a look at our moving house checklist.
We've got you covered with moving hacks from moving house with a pet, packing and cleaning tips to frequently asked questions about moving energy connections and more to make your move as easy as possible.
---