7 tips to make moving easier
4 May 2017
The best moving advice we've heard is 'don't sweat the small stuff', so why not tackle those small tasks online so you can get back to the packing.
That moving 'to-do' list may seem long, but carrying out these simple – but essential - moving tasks online can help to simplify the moving process.
Online tasks to help move house


1. Connect your electricity and gas online
Don't overthink this one. You need to disconnect power from your old property, and connect it to your new home, and it could take just a few minutes.
If you're an Origin customer: We'll need to finalise your account so please call us on 13 24 61 to disconnect your property. If you're moving into a new property and want to take us with you, please use our moving form or give us a call.  
If you're not with Origin, (and you want to be): You can connect your new property via the Origin website, just choose the plan that's right for you. You'll then need to call your existing provider and advise them to disconnect your old address. Quick tip: Different energy retailers may have different notice periods. Check with yours to see how much notice they need to send a final bill.
2. Redirect your post
Australia Post makes moving pretty straightforward. They have an online service that allows you to redirect your mail with ease. Just create an account on their website and in a few simple steps, your mail will be redirected, so you can feel confident nothing will go astray. 
Find out more about redirecting your mail at auspost.com.au
3. Check the weather
Fingers crossed for a dry moving day, but if it is scheduled to rain - don't panic. Your removalist has done this before and will have the necessary equipment.
If you're doing a DIY move, check the weather a week out and plan for any showers. Have some large bits of tarp or plastic sheeting on hand to drape across large items such as sofas and mattresses, and even consider taping the tarp around soft furnishings to prevent dirt and damage. In many cases furniture takes time to get through the door, so your items could be exposed to the elements for longer than you think, even in the fastest move.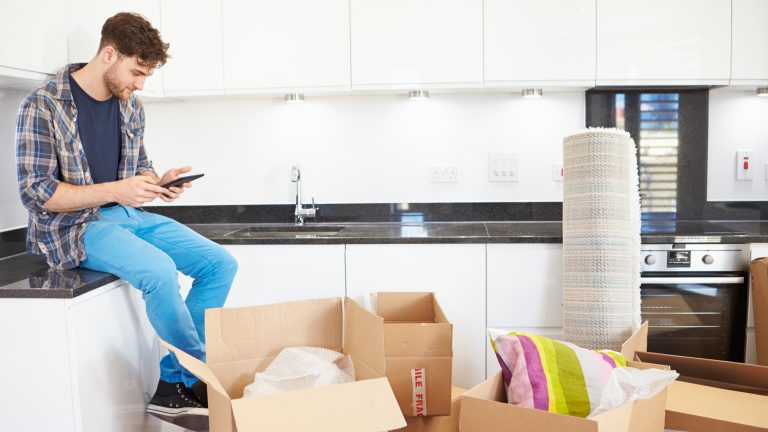 "An online grocery delivery the day after you move in will ensure no one gets hungry during the unpacking!"
4. Arrange to get some groceries delivered
The last thing you'll want to do the day after a move is to go grocery shopping. And trust us when we say moving with a fridge full of food can be a bad idea!
Quick tip: Empty your fridge when you move. Pop everything in an Esky, or better yet, eat your way to an empty fridge and just restock it once you've moved in. An online grocery delivery the day after you move in will ensure no one gets hungry during the unpacking!
Coles online shopping
Woolworths online shopping
5. Book a removal van
Don't forget the moving van! It could be a good idea to book this as far in advance as possible. Many removal companies now have online booking, so you don't need to stress about fitting this in between open office hours. 
6. Update your online accounts
Many of us love a bit of online shopping, but you don't want your orders going astray. Remember to update your shipping address on favourites sites such as eBay, Amazon and ASOS and don't forget your online banking and PayPal accounts too.
7. Tell the government
We don't want to sound like Big Brother, but when you move there's a list of government bodies to inform, such as Medicare, Centrelink and the ATO. Make is simple to tick off your list by visiting australia.gov.au.