Hyundai and Origin believe in a sustainable future, where each person is empowered to make sustainable and cost efficient choices. So, we've partnered up to deliver savings for Australian households.
If you're up to speed on the buzz around EVs, you'll know this is big news. Not only do Electric Vehicles (EVs) produce zero direct emissions, with Origin solar you could literally power your car with the energy of the sun. That may sound crazy but with Australia getting its fair share of rays, EVs are officially a compelling alternative to petrol.
We've just announced that any proud owner of a Hyundai Kona Electric, IONIQ or any of the upcoming electric range, is eligible to score a pretty hefty discount off a new solar system from Origin. To the tune of up to $750 off Origin solar systems 5kW or larger.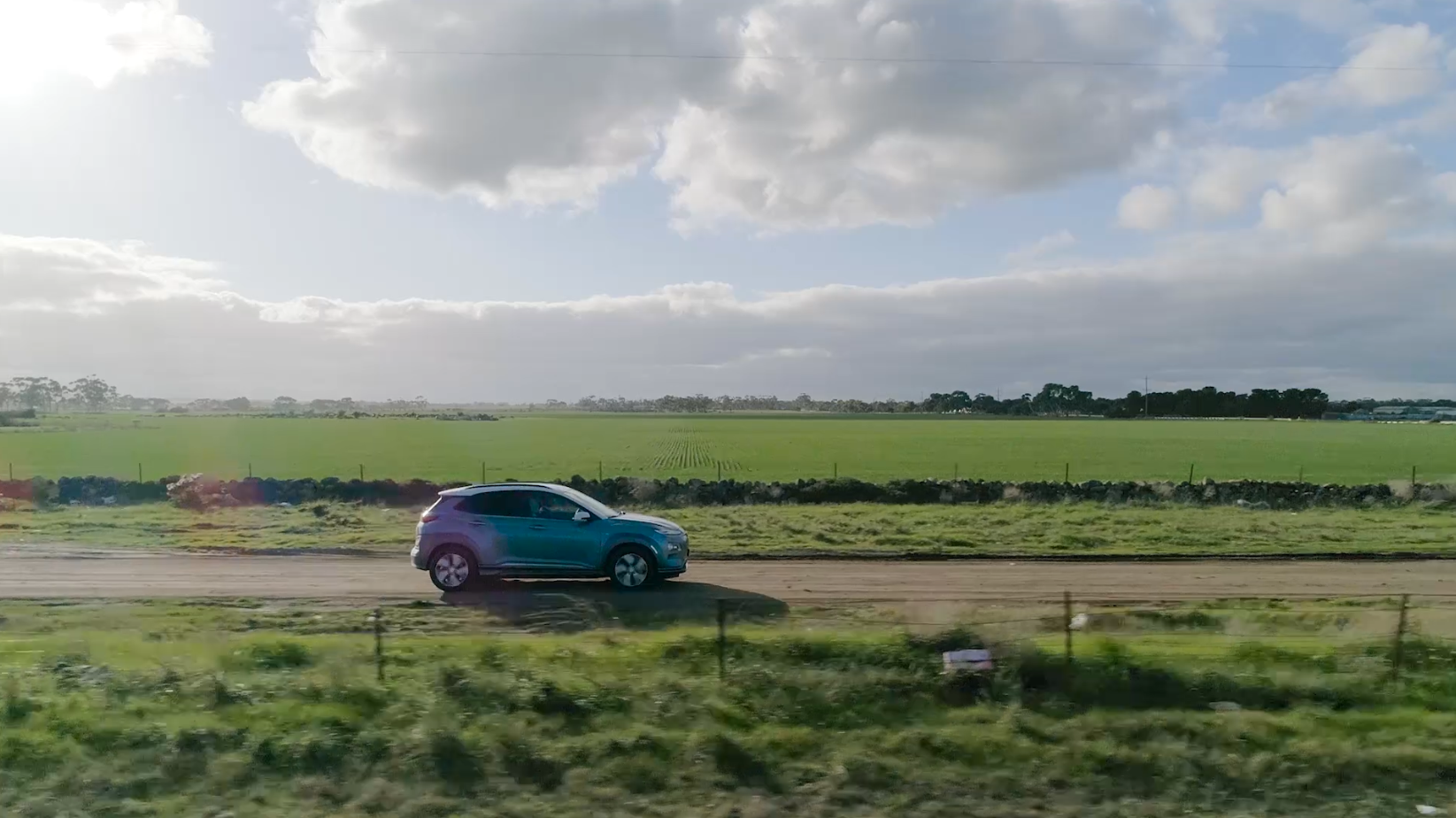 Electric vehicles on solar power
We've spent some time with the new Kona Electric and we're loving the feeling of knowing every kilometer traveled is 100% guilt free on solar power. Unlike getting about in your old car powered by a typical combustion engine, you really do feel good every time you put your foot down and hear the 'whir' of electric motors providing you instant acceleration.
While electric vehicles often offer energy efficiencies that could lead to a cheaper weekly running cost than a petrol equivalent, solar power could also help reduce your electricity bills at home.
EV technology is still quite new to most of us though, and because of this it can seem a bit of a mystery. To break down the buzz and bust a few common myths, we've jumped in ourselves – see what you think.
The Hyundai Kona Electric
Hyundai Kona Electric enters a fast-growing range of electric vehicles available in the Australian market. As Australia's first electric small SUV, the car blends practicality with fun. A sporty design houses a tidy package with all the latest tech.
Charging is easy, because you have options, from fast charging (which does need Hyundai hardware installed at an extra cost) right down to basic charging through a standard 240v wall-plug (which is slow but handy for overnight top-ups).
An impressive fully electric range of over 440km puts convenience up with with petrol-powered transport.
The electric power-train means you'll enjoy what Hyundai calls 'instant acceleration'.
If you own one of these vehicles or in fact any EV, then solar systems and home batteries may be worth a look.
---
Origin EV FAQS Answered
Why is Origin getting into the EV game?
Origin is committed to transitioning to a smarter and more sustainable energy future. The electrification of mobility (e-mobility) is one of the ways we're getting energy right for our customers, communities and the planet.
Starting with our Origin fleet
We have over 100 vehicles for our Origin team to use day-to-day, and we'll transition this fleet over time to EVs. We'll start this year with 10 EVs, and get to 60 EVs by 2021.
Learning from our experience
We'll gain valuable data by running our own EV fleet, which we'll build into real customer solutions. That way we can understand where practical energy solutions will be most useful to customers, whilst immediately reducing our own carbon footprint. 288 tonnes of direct emissions will be saved by meeting our target of 60 EVs by 2021.
Why is Origin partnering with Hyundai?
Origin is a leading provider of solar solutions in Australia, and Hyundai is the leader in eco-driving vehicles. An EV powered by solar energy produces zero emissions – supporting EV drivers to live even more sustainably. It's win-win.
Still curious? Listen to Ricky from our e-mobility team explaining why we're excited about EVs here at Origin.