Pull off the perfect anniversary dinner with this modern spin on an Aussie favourite – fish and chips.
Serves: 2 people
Ingredients:

For the chips
500g potatoes, cut into thick wedges
Olive oil
For the pea puree
1 cups frozen baby peas
2 tbsp milk
For the fish
2 x 200g fillet white fish eg snapper
2 tsp plain flour
Salt & black pepper
1 lemon
50g butter
1 tbsp baby capers
Method:
Preheat oven to 220°C and line a baking tray with baking paper. Place the potato wedges on the prepared tray and drizzle with olive oil. Cook for 40-45 minutes or until crisp and cooked.
Zest the lemon to get 1 tsp of zest. Juice half of the lemon to get 1-2 tablespoons of juice. Cut the other half of the lemon into 2 wedges and reserve.
Bring a saucepan of water to the boil and add peas. Cook for 2 minutes or until hot. Drain and return to saucepan and add milk. Blend using a stick blender or in a food processor, adding a little water if necessary. Season to taste with salt and black pepper. Keep warm.
When the wedges are cooked, dust the fish with flour and season with salt and pepper. Heat a medium frying pan over medium heat and drizzle with olive oil. Add fish to pan and cook for 2-3 minutes on each side or until cooked and opaque. (Cooking time will vary depending on thickness of the fish.) Set aside and keep warm.
Wipe the pan clean with paper towel and reheat. Add the butter and melt. Cook for 1-2 minutes or until the butter just begins to turn golden brown. Remove from heat and quickly stir through the capers, lemon zest and juice.
Place pea puree in centre of 2 plates. Top with fish and spoon over caper burnt butter. Serve with the potato wedges and lemon.

About the chef
Those with a keen eye for detail may recognise the tech-savvy gent using bottled gas to prepare this fancy fish and chips dish.
Charlie has starred in several of Origin LPG's commercials – and no one is more puzzled by his newfound fame than him.
"I am enjoying it, although I tell nobody about the ads. The people at the bowls club see it and I get ribbed. My family are fascinated by it. How on earth am I there?" he says.
Charlie's journey to TV fame began when one of the sport clubs he's a Life Member of, the Mudgeeraba Nerang & Districts Cricket Club, won a social media competition we ran in 2018 for sporting organisations celebrating significant anniversaries.
The club, one of the oldest in the district, was marking its 132nd birthday at the time. They won $10,000 and a starring role in our TV commercial – and the rest is advertising history!
In our latest instalment, Charlie's using his charm to plan the perfect anniversary dinner – although he admits that such events are a little new for him.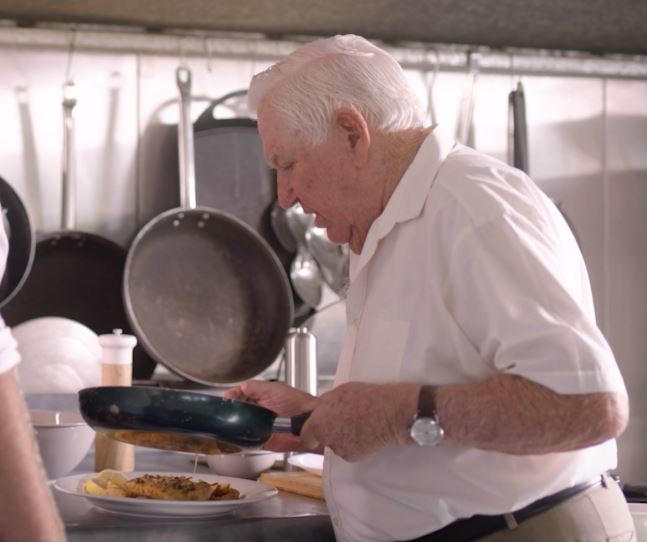 "Growing up, we didn't go too out of the way to celebrate things. When I was young, we were just out of the depression and then we ran into World War II."
However, Charlie's days on the family dairy farm in Merrimac, near Mudgeeraba, mean he was never short of a good dish. "Beef, pork, chicken, lamb, veal, milk and eggs – we never missed out on anything," he says.
Yet it's a testament to his acting skills that he can so flawlessly pull off this fancy fish and chips dish. Charlie confesses that the best meals are the ones he gets someone else to cook!
Despite his reluctance, Charlie continues to display his acting abilities to support the growth of the club – and cricket in general.
"I like to see young people playing sport," he says. "Team sport is the making of a personality, and it helps create a community."
And with his now-familiar face, easy sense of humour and love of all things cricket, Charlie makes the perfect advocate. Onya Charlie!
Need LPG for your home?