Most of Australia's energy is generated centrally and relies heavily on traditional energy sources, known sometimes as fossil fuels.
In fact, around 86 percent of our electricity is generated from these fuels types, with 73 percent from coal and 13 percent from natural gas.1 Around the world it's much the same, with fossil fuels being used for electricity, heating and powering vehicles.
The world relies heavily on coal fired electricity generation because it's often the cheapest form of generation. It's also reliable and abundant. That's what makes it difficult for renewable options, such as wind and solar, to compete in purely financial term
Renewable energy sources make up the remaining 14 percent of Australia's electricity mix.2
Hydropower, which began contributing to Australia's generation in the 1950s, is the largest source of renewable electricity, contributing 60 percent of all renewable generation and 7 percent of total electricity.
Wind, bioenergy and rooftop solar make up the other seven percent.
Wind and solar power are known as intermittent energy sources, because they rely on natural sources and can't be relied on for consistent baseload power.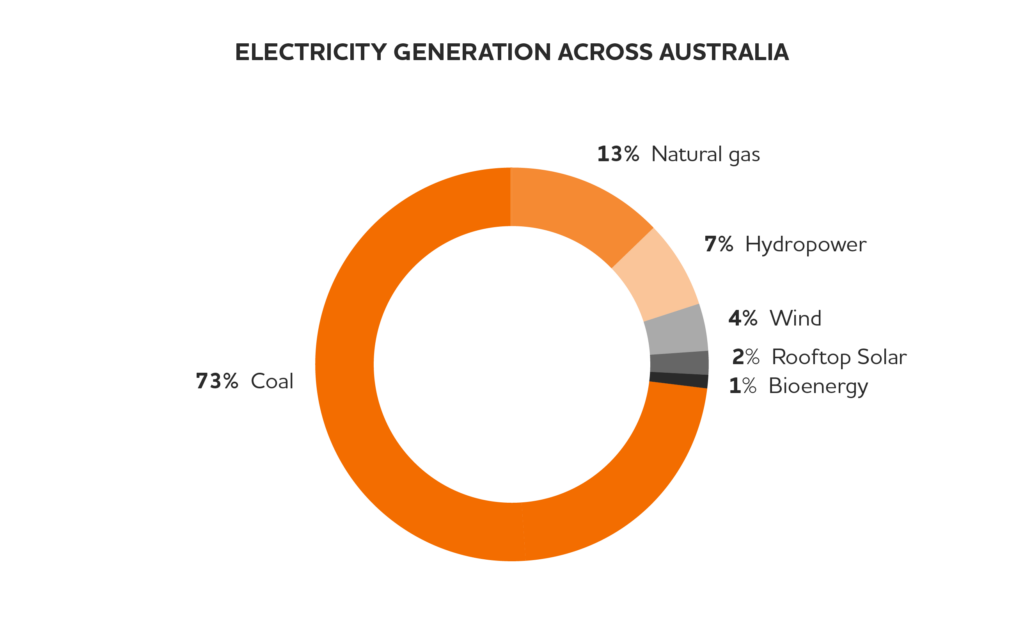 The electricity mix evolves
Where Australia's electricity comes from, how it's produced and consumed has changed over time as the economy, technology and infrastructure have developed.
Before the 1800s, people relied on wood, water, wind and sun as primary energy sources; the 19th century saw the introduction of the first coal-fired power stations; and throughout the 20th and 21st centuries, the realisation that burning fossil fuels for electricity was contributing to climate change drove demand for renewable energy sources.
In the future, government policy (such as the Renewable Energy Target) and improved battery technology might make reliable renewable energy on a large scale more affordable and help support the use of natural gas as a cleaner-burning fuel. Until then Australia's electricity system needs to be backed up by fossil fuels.
Australia has the highest average solar radiation per square meter of any continent in the world.4
Who's the biggest consumer?
There is no doubt that Australian's use a lot of energy. But it's the manufacturing sector that's the largest user of both electricity and gas (27 percent)5 with households following closely behind, consuming around a quarter of all energy in Australia. Transport (15 percent) and mining (13 percent) are also big users.6
Our group of generation power plants is one of the largest in the country, helping to meet this electricity consumption. In fact, we have the capacity to meet around 13 percent of electricity consumed in the National Electricity Market.7
References