Top of anyone's list when searching for the best indoor gas heater is an appliance that warms the room quickly and evenly. But shouldn't all gas heaters do this anyway? Well, yes… and no.
To help you find the indoor gas heater that best suits your needs, take a look at the 'Origin 7-step method'.
1. The indoor gas (or LPG) heater basics
Important to understand is that there are two main ways to connect gas heating, whether you have LPG or natural gas.
Unflued and flued gas heaters:
Portable (unflued) heaters
Flued gas heaters
Gas connection
Plugged into a bayonet with a gas hose
Installed into the home and connected to the mains or an LPG bottle
Good to know
Provides instant heat for medium-sized rooms
Heats mid-large size rooms and can be programmable
Emissions
Into the room
Carried outside by flue
Watchpoints
Inefficient for open plan homes
Water vapours can cause mould
Can't move them around
Can be expensive
Who loves it
Handy for renters because you can pack it up and take it with you
Popular in apartment buildings and open plan homes
2. Top gas heater features and types
Everyone's different. Some people love the glow of radiant heat or a gas log fire. Others don't need the atmosphere – they just want certain rooms to feel more liveable at high-use times of the day through the colder months.
Types of unflued and flued gas heaters:
How it heats
Good to know
Portable
Radiant (direct heat)
Manually operated electronic ignition (battery)
Cheaper to buy than convector or combo
Convectors (fan-forced)
Distributes heat more widely than radiant
Many come with thermostat and remote controls
Combination (direct heat and air)
Best of both worlds
Wall heaters
Fan forced
Recessed into a wall or on its surface Slimline look
Central heating
Ducted into floor or ceiling
Flexibility to heat your entire home or selected areas
Control the heat distribution, temperature and timing
Gas fires
Flued gas vents
Can be inserted to existing opening, installed from scratch, or freestanding
No need for wood chopping!

3. Your location and indoor room sizes
Here's the thing, all the micro-environmental factors – like how cold it is or whether you get much sunshine at certain times of the day – help determine the type of indoor gas heater that's best for you. So too does the area your gas heater must cover.
With this in mind, factors to consider include:
Number of rooms – do you want to heat a few different spaces or just one room?
Size of room – portable heaters aren't permitted in small rooms; big rooms need more grunt
Windows and their size – a lot of glass requires more heat in order to warm the room
Insulation – this helps your heat stay where you want it
Where to position your gas heater – the size of your space and what lies beneath your walls, floors and ceilings.
Hot gas heater tips
Portable gas heaters are illegal in small rooms like bedrooms and bathrooms
Flued heaters are popular in cold climates such as the Blue Mountains and Tasmania
4. Best heater size, gas consumption and capacity
Talking about the size of your space, measure the rooms and use this chart as your guide to the right gas heater size for you. The idea is to ensure that you buy something that gives you just the right amount of energy you need without over-investing.

Hot gas heater tips:
kW (Kilowatt) measures the heat that comes out
MJ (Megajoules) measures the amount of gas consumed
5. Indoor gas heater safety and your home
Here's how to prioritise safety when selecting and installing a new gas heater:
Purchase a reputable indoor gas heater brand from a trustworthy supplier
Have it installed by a qualified gasfitter – whether flued through a chimney or firebox, or unflued gas bayonet
Install a standards-compliant carbon monoxide alarm
Get the right type of gas heater for the space(no portable gas heaters in bedrooms and bathrooms).
Other safety factors when deciding on the best gas heater for you:
Child locks – a feature gaining in popularity but not on all models yet
Automatic shut-off – in case portable appliances are knocked over
Portable appliance ventilation – a window or door must provide adequate ventilation for gas emissions
Water vapour – again on ventilation, if the room can't breathe, mould can build up (particularly hazardous to people with allergies and other respiratory issues).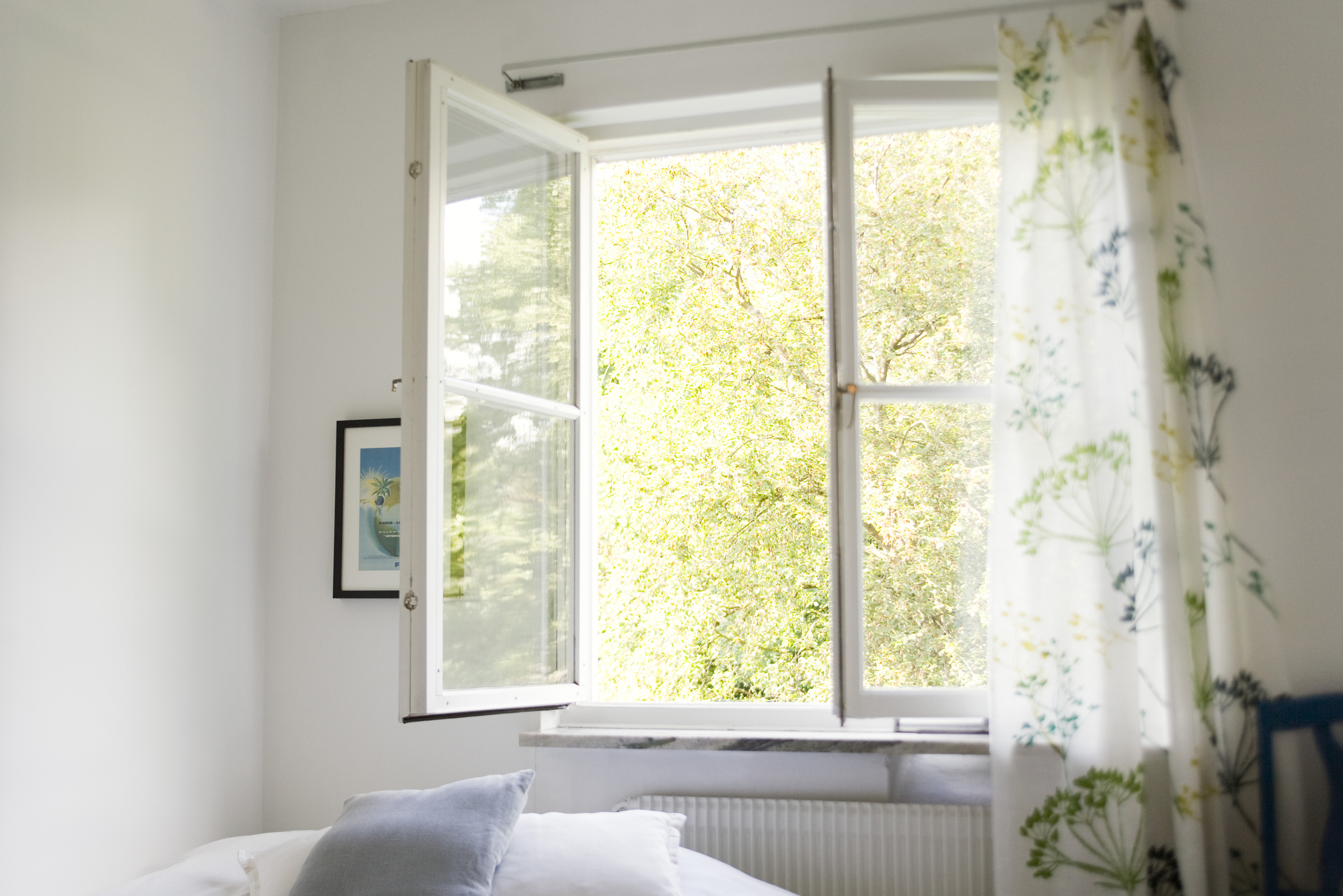 Open a window or door when operating an unflued portable gas heater.
6. Energy efficiency stars
The type of gas heater you buy will have a bearing on your energy consumption, as will the way you intend to use the appliance. Before you buy, be clear about what this looks like for you:
Will your indoor gas heater be on for extended periods in your home?
Do you plan to heat one mid-size room only?
Do you need flexibility – heating lots of rooms, possibly not all at the same time?
Hot gas heater tips
Flued heaters aren't as energy efficient as portable gas heaters
Convection heaters aren't efficient when used for long periods
Radiant heaters will only heat a certain part of the room (you may find yourself installing a second gas heater)
Programmable timers – turn the heat on and off to conserve energy
And as mentioned earlier, if you purchase a heater too large for the space, you could be paying for energy you don't actually need.
7. Shopping for the best gas heater
Armed with enough information to know what's right for you, there are plenty of retailers who can help you out. Buy a new indoor gas heater rather than second hand for quality assurance purposes. And be sure to ask about noise, as some gas heaters are noisier than others – like a few of the fan-forced models.
LPG gas heater brands
The popular brands include Rinnai, Paloma and Omega. If you have a bigger budget, hit the product comparison sites.
Retailers for gas heaters
Do a comparison shop online with at least three retailers, such as Harvey Norman, Appliances Online and The Good Guys.
Save on gas rebates
Pensioners in certain states and territories qualify for rebates on gas connections. If you haven't taken advantage of the gas rebate schemes for LPG and natural gas, this could really help you.
Hot gas heater tips
[icon] Portable gas heaters range from $400 to $1,500+
[icon] Flued gas heaters range from $1,200 to $2,200 (but can go as high as $7,499+)
Go forth and find your best indoor gas heater
With LPG or natural gas, you have a range of appliance options to choose from. It's just about knowing what you need for the space you have and finding the best indoor gas heater for your budget.
Need LPG to power your heater?