Origin's first Tesla Powerwall battery customer
ORIGIN'S FIRST TESLA POWERWALL BATTERY CUSTOMER
17 November 2016
The first shipment of Tesla Powerwall batteries landed in Australia this year and Tesla advocate and NSW resident Andrew Hingston was the first Origin solar customer to have the battery installed at his home
In December 2015 Origin announced its collaboration with Tesla Energy to sell its much anticipated home battery – the Powerwall, as part of a home energy solution package. Interest in Tesla has boomed over the past year, with many seeing the cult company as a key disruptor in the energy and motor sector as they develop options for solar batteries and electric vehicles.
As a supporter of renewable energy, Origin is proud to be a provider of Tesla Powerwall batteries so its customers can make the best use of the solar power they generate. 
The first Tesla Powerwall customer
Meet Andrew Hingston, self-confessed tech geek, economics teacher and owner of Origin's first Tesla Powerwall battery and solar system package. Andrew, his wife, and their two primary school aged sons live in the western suburbs of Sydney, New South Wales, and are one example of a number of early adopters in the battery space.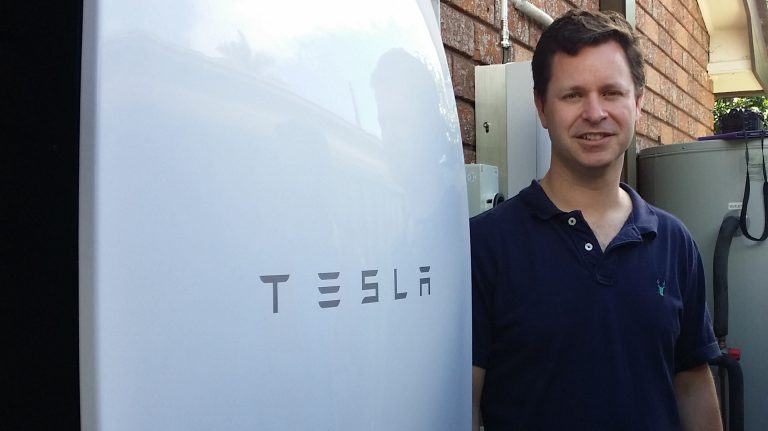 Andrew and his wife work some of their week from home and were keen to invest in a solar system package for their home, seeing direct benefits to their family lifestyle. Finding the right solar solution was a priority, and when the announcement of Origin's solar + Powerwall bundle was announced Andrew saw it as their opportunity to add solar to their energy mix.
"My family and I want to do our part to look after the environment to try to live sustainably, and from a financial perspective I think the Solar + Powerwall package is a good investment for us. I think I can get a return on each dollar invested of more than 10% per annum tax free, which is a good return," says Andrew.1