The weather's warming up and the social invitations are coming in hot too. Avoid the question of 'what should we bring?' and surprise your friends and family with an Insta-worthy grazing board. These step-by-step tips will help you create a beautiful platter that will knock their socks off!
1. Start with the hero
Where to begin? With the star of the platter, of course – cheese!
When it comes to cheese, it's best to opt for a mixture of textures with at least one soft and one hard cheese. There are endless options and combinations, but Brie, Camembert and Fromager d'Affinois are our go-tos when it comes to soft cheese. Gouda, aged cheddar and Gruyère are always a hit down the hard end of the spectrum.
If you're adventurous, consider throwing a blue cheese like English Stilton or gorgonzola into the mix.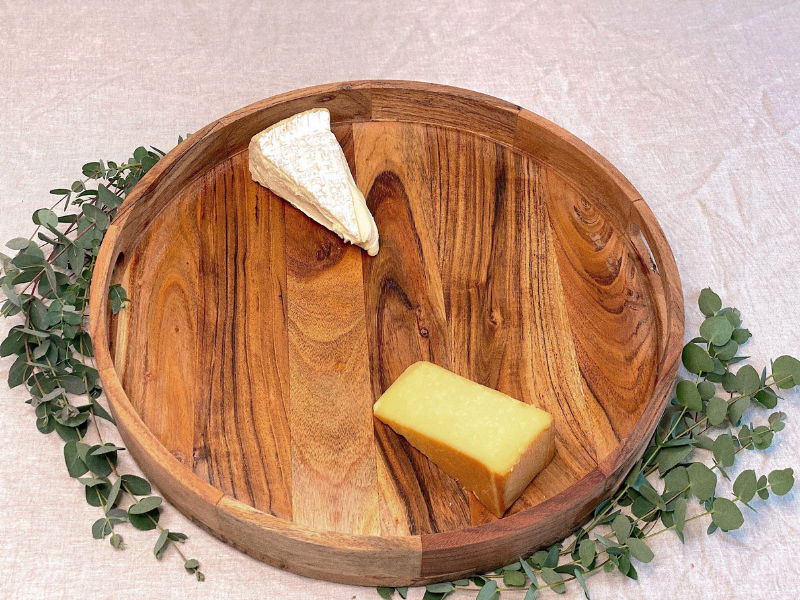 2. Add your meats
Once you've settled on your cheeses and placed them on the board, it's time to add in some mouth-watering selections from the deli.
Salami, prosciutto and mortadella are staples on charcuterie boards for a reason, so if in doubt these are great to add to your platter. If you feel like venturing outside the usual fare, try pâté, terrine or plant-based deli meats.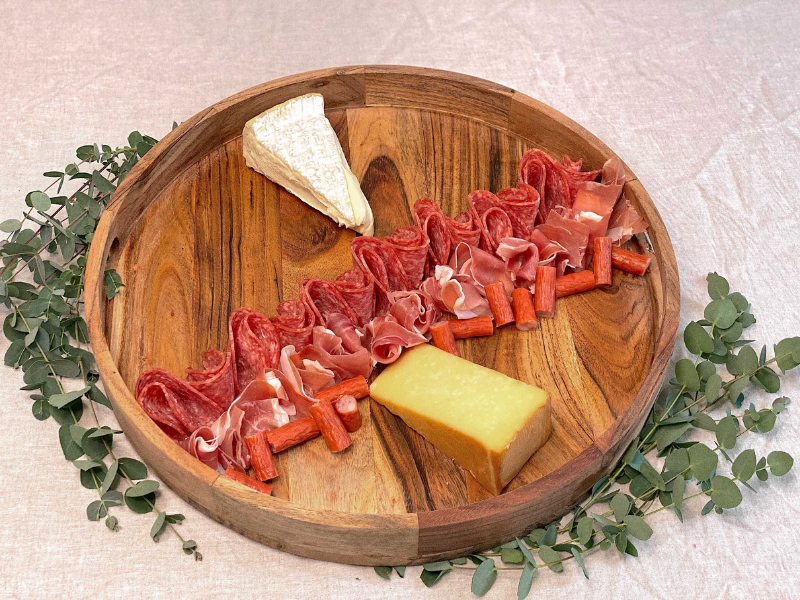 Tip: To make your salami look even more delectable, try folding it into quarters and standing it up on the folded edge.
3. Take a dip (or two)
So, you've got the meats down – now it's onto a favourite, dip!
There are too many dips to list, but crowd pleasers include humble Hummus, Greek Tzatziki, spicy capsicum and blue cheese dip with fig and pistachios! It's great to include a fresh option as well as a luscious creamy dip to help cater to a wide range of tastes.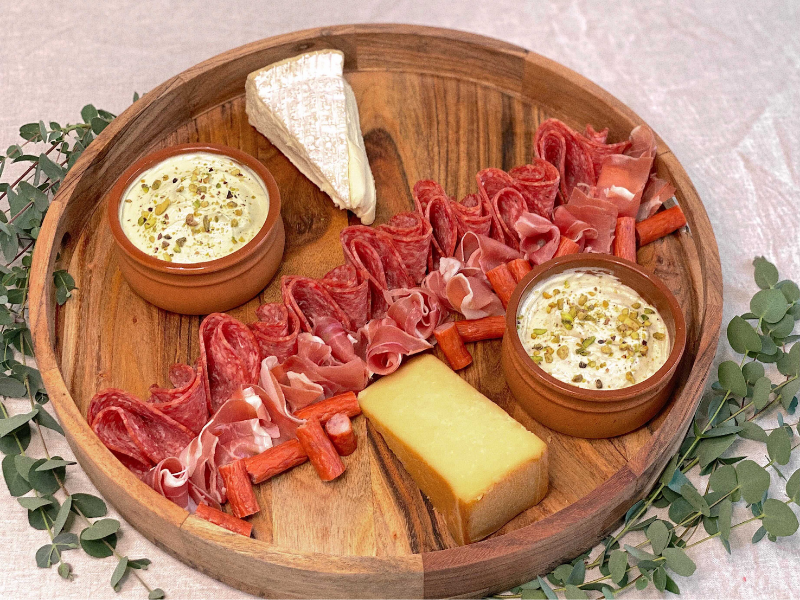 Tip: Pop your dips into ramekins or small terracotta serving dishes and ditch the packaging. This will help pull the platter together visually.
4. Pepper in some produce
Now it's time to showcase some produce by adding in some vegetables, fruits and pickled items. Pickled produce like baby cucumbers, onions and bell peppers help add zing to the board, while additions like grilled eggplant and artichokes add a hint of sophistication. Family favourites are sundried or semi-dried tomatoes, stuffed bell peppers and olives.
Finish off this section by showcasing some fruit like fresh figs, dried apricots, grapes, kiwi fruit or fresh berries. When it comes to produce, the supermarket aisles can provide a surprising amount of inspiration!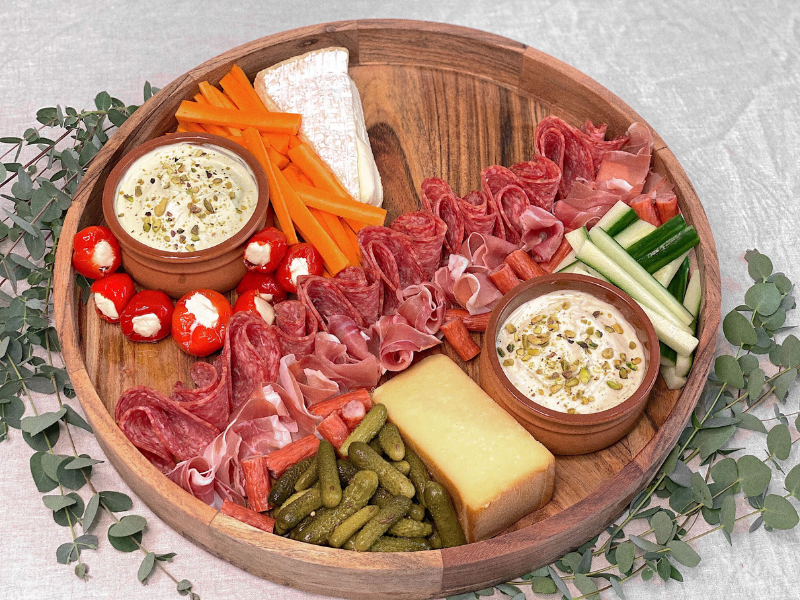 5. Crunch time
Texture is everything, visually and taste-wise – crunch adds body to your board.
Start with a staple – crackers! There are loads of options from water thins, wafer crackers and lavosh to breadsticks and crostini. Once you've got the 'base' sorted, get creative. Add in elements like pistachios, macadamias, peanuts or pretzels.
Bring it all together with some freshness by adding carrot and cucumber sticks.
Love carbs? Consider adding some denser options like slices of olive loaf, baguette or other artisan breads. This is a great way to bulk out the board and keep your guests fuller for longer.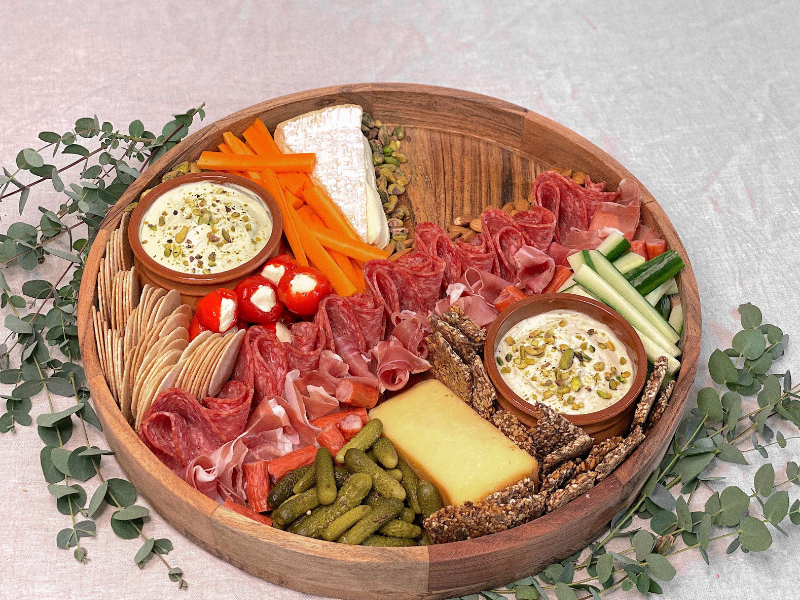 Tip: If you're adding breadsticks, stand them up in a small glass jar for dramatic effect.
6. Sugar, yes please!
Most people love a little something sweet after a savoury bite, so to keep the sweet tooths satisfied add a sprinkle of delectable treats.
Suggestions include chocolate-covered pretzels, bite-sized chocolates like Freddo frogs and Ferrero Rochers, slabs of nougat, truffles, musk sticks, chocolate-covered coffee beans, macarons and choc-dipped strawberries. Stroll down the supermarket candy aisle with an open mind and you'll find plenty of options.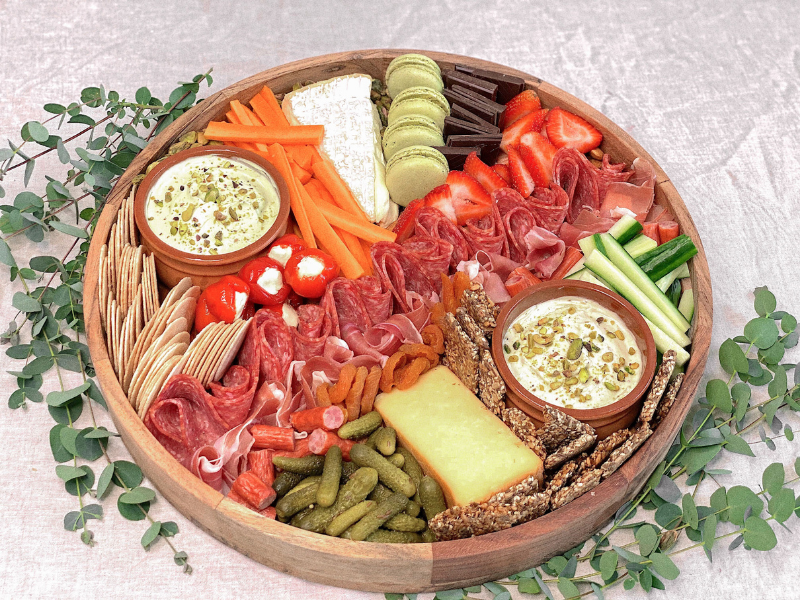 7. Finishing touches
You're almost done, it's time to add some final touches to elevate your platter.
Finish off your creation by sprinkling on some edible flowers, sprigs of rosemary or thyme, broccolini flowers or even some native gum leaves.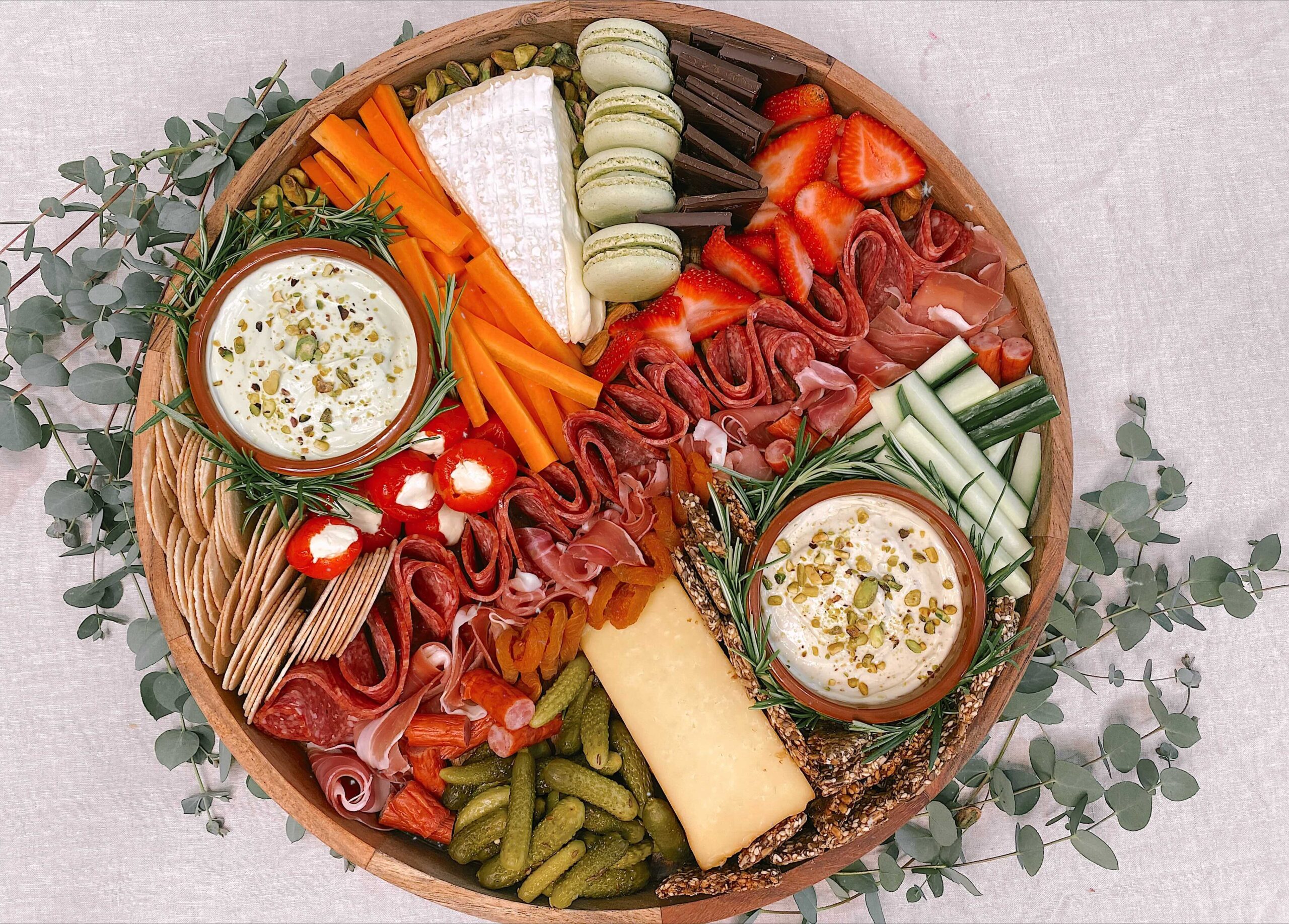 Tip: You can use small produce jars to help garnish your board as well. Stand up bunches of rosemary in them to create an added layer of depth to your platter.
Shopping for platter essentials? Why not give your Everyday Rewards points a little extra boost.
Origin Energy and Everyday Rewards have teamed up to launch an Australian-first co-branded energy plan that rewards customers with Everyday Rewards points for the energy they use in their home.