Help with reading your bill
Unmetered electricity supply
We break it down for you
Your bill has all the details of your energy charges and usage, as well as handy info about your unmetered supply and your tariff type.
Take a look at our page-by-page bill explainer. This guide is for our Standard Unmetered residential and business customers.
Page 1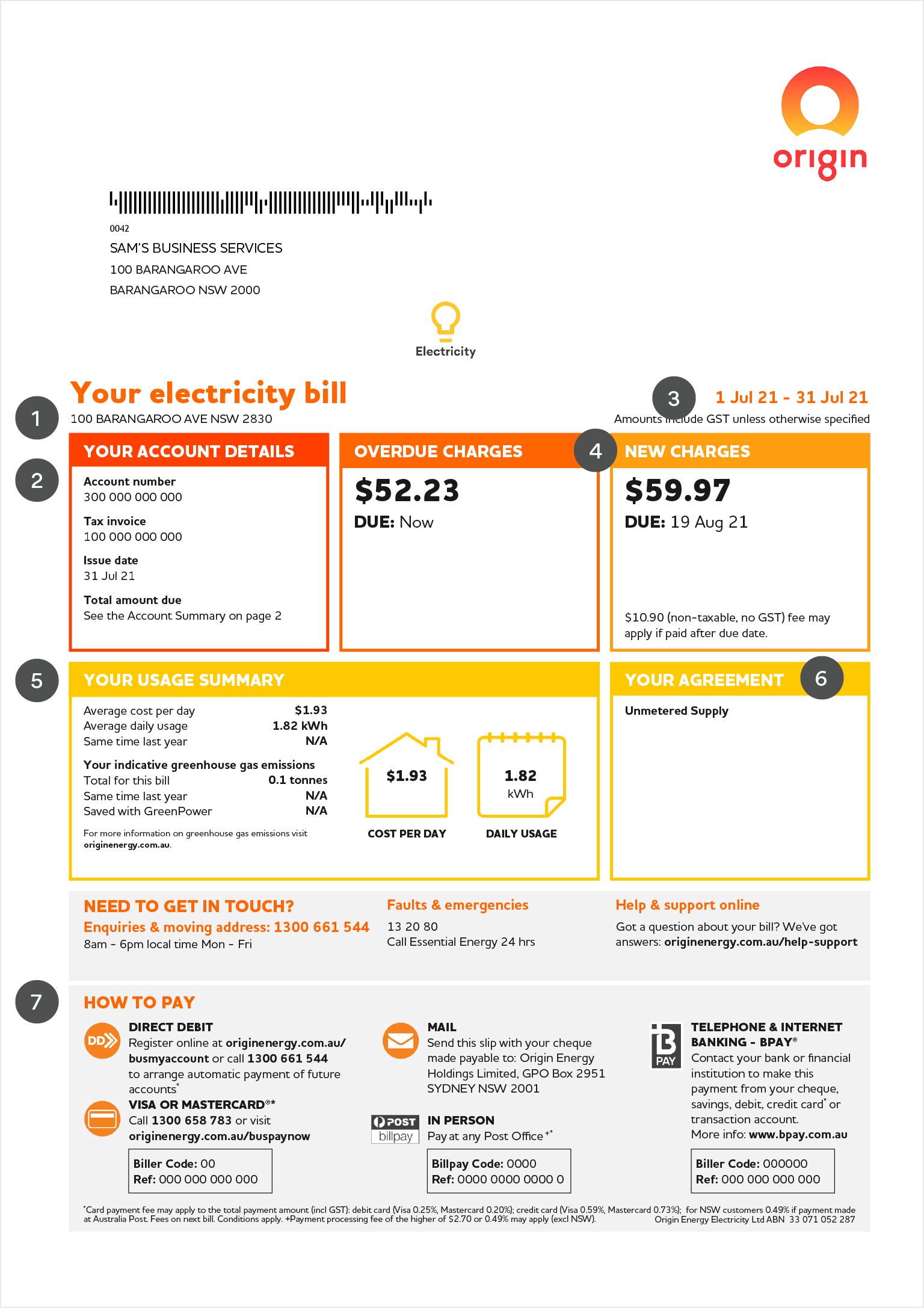 1. Your supply address
The address of the property we're billing you for – the address we supply your electricity or natural gas to.
2. Your account details
Your account number, the tax invoice number and the date this bill was issued.
3. Billing period
The period of time covered by this bill. For electricity, billing periods are normally either monthly or quarterly. For natural gas, it's normally every two months.
4. The due date and amount due
The due date is the date you need to pay your bill.
The amount due is how much you need to pay (including GST). You'll also see your discount here, if your plan has one.
The amount due can look different if:
Your account is in credit or you don't owe us anything
Your account is overdue or you have an outstanding amount due
You're on a payment plan or have a direct debit set up
5. Your usage summary
Your usage for this billing period, includes:
Your average cost per day and daily usage
Greenhouse gas emissions for the energy you used if applicable
Electricity is measured and billed in kilowatt hours (kWh)
6. Your Agreement
Details of your agreement at the time we issued your bill.
You're on an Unmetered Supply agreement. This is because your supply device is using an unmetered supply
You're bound by the Standard Retail Terms and Conditions on this agreement
7. How to pay
This section shows the different ways you can pay your bill, and any payment fees that might apply.
Page 2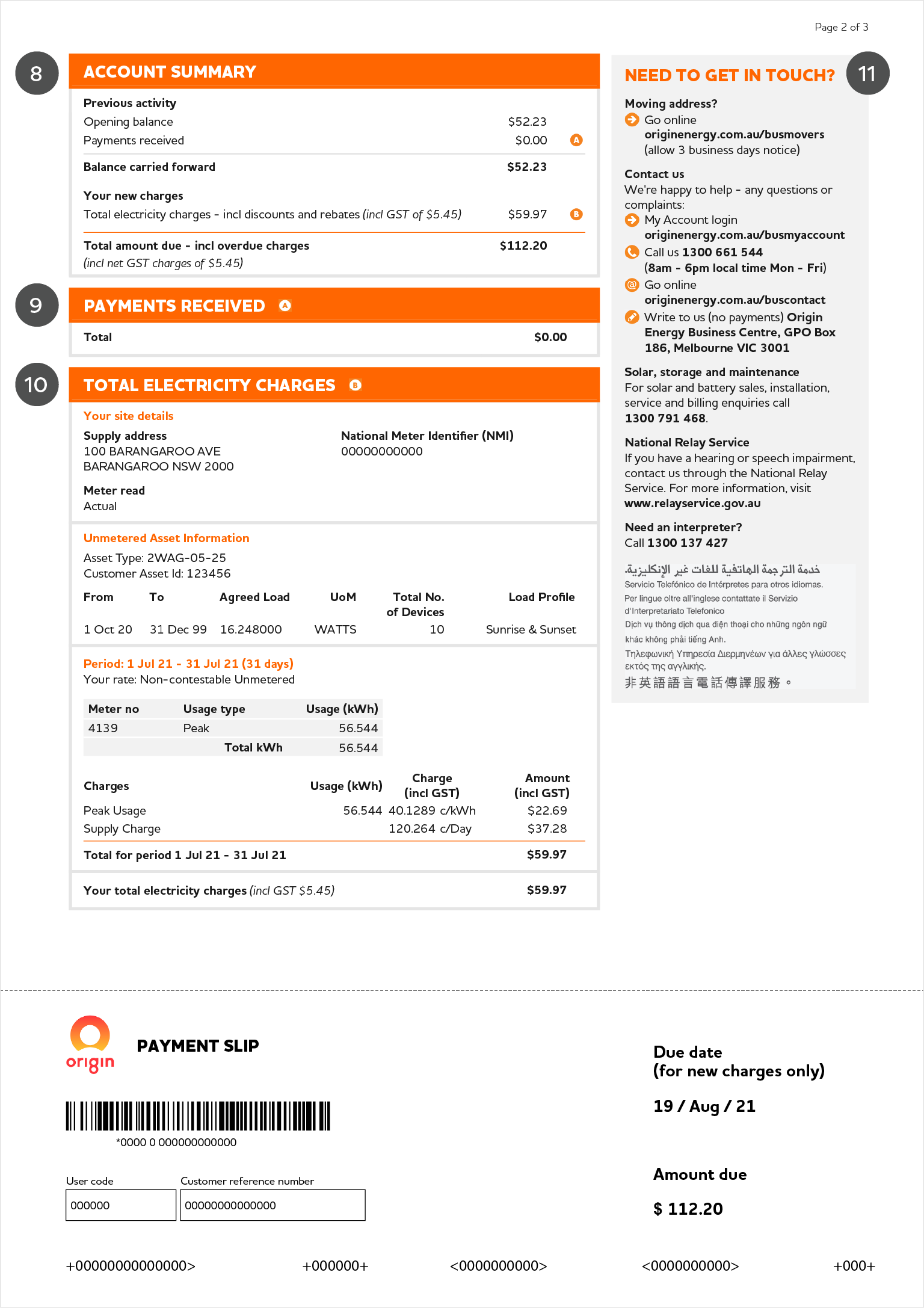 8. Account summary
A summary of your past (except if this is your first ever bill) and present balances, including:
The amount you owed us when we sent your last bill
What you paid towards that bill – marked with an A in an orange circle
Any amount owing, carried over to this bill from the last one
Any adjustments carried over from your last bill e.g. payment fees, account credits, solar charges or feed-in credits – marked with a B in an orange circle
Your new energy charges for this billing period – marked with a C in an orange circle
You can see details of items A and C (marked with the orange circles) just below the Account Summary.
9. Payments received (the A from point 9, above)
What you paid towards your last bill, when you made payments and how you paid them during the last billing period.
10. Total electricity charges
Details of your unmetered supply address, your usage and what that usage costs, including:
Your site details:
Your Supply Address
NMI and Meter read details
Your Unmetered Asset Information:
Your Asset Type
Asset ID if provided
Agreed load of the device
Unit of Measure in WATTS
Total number of devices
Load profile, for example 24 hours or 12 hours
Your billing period in days
Your rate – the pricing structure we use for your address which is Non-Contestable Unmetered
The rest of this section is a breakdown of how much energy was used during the billing period and what it cost. All the charges include GST. Some items, like goodwill credit, don't include GST. With these, we'll add "non-taxable, no GST" to make it clear for you
11. Need to get in touch?
This right hand column on your bill has detailed information about how to contact us online, on the phone or by post.
Page 3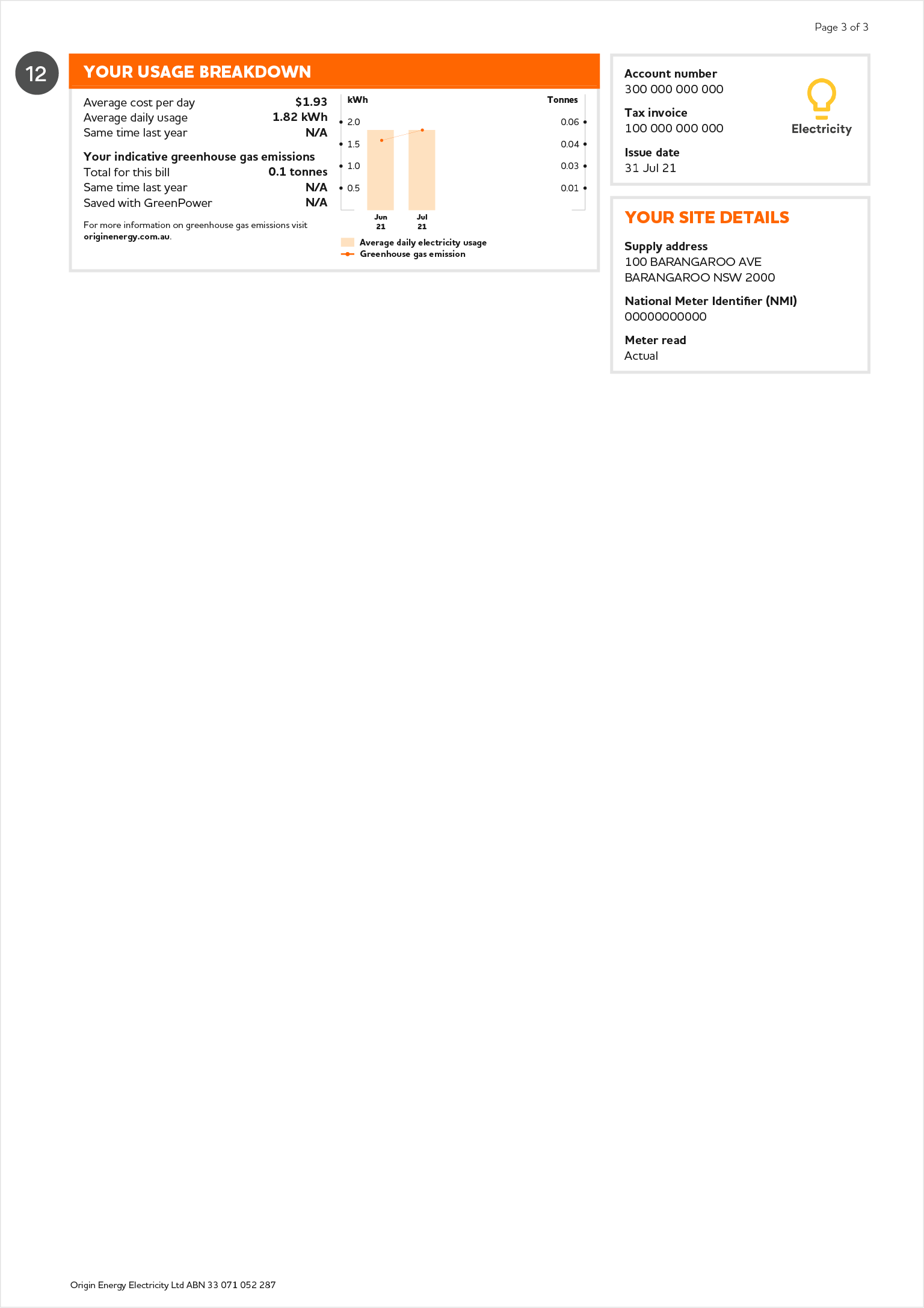 12. Your usage breakdown
On the third page of your bill, you'll see your average daily usage for this billing period compared with this time last year. You can also see approximately how much greenhouse gas was emitted to generate the energy you used – again with a comparison to last year.
There is a graph showing your usage and greenhouse emissions over the last year.
The Origin Bill image is for illustration and is indicative only.