Located six hours' drive south of Darwin near the town of Daly Waters, the Beetaloo Basin has the potential to be a game-changer for the Australian gas industry and the Northern Territory as a major new source of gas supply.
Our exploration project started in mid-2014. So far, we've drilled four wells and we plan to drill two more in 2019. These wells will help us to determine how viable the gas resource is in these areas.
We'll provide more information and updates here as the project progresses.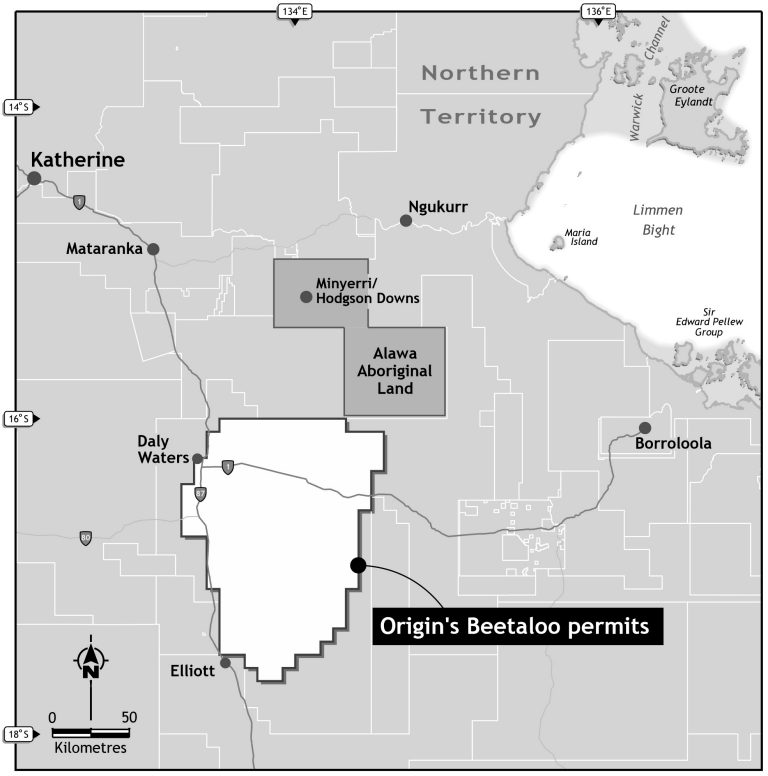 Origin's permit area in the Beetaloo Basin of the Northern Territory
What is fracking? 
To drill the two wells planned for 2019, we'll need to use hydraulic fracture stimulation – or fracking – to bring the gas to the surface. 
Fracking is the technical process designed to release gas trapped in dense shale rocks deep underground.  
It involves pumping water mixed with sand and low concentrations of chemical additives under pressure to fracture the shale. This creates tiny pathways in the rock that allow the gas to flow into the well and be brought the surface.  
Northern Territory moratorium
Fracking was the subject of an independent scientific inquiry in the Northern Territory.  
The inquiry's final report, released in April 2018, confirmed that fracking can be done safely. Following this, the Northern Territory Government lifted its moratorium on fracking, allowing us to get back on the ground in the Beetaloo.
Working with Traditional Owners  
We've worked closely with our host Traditional Owners and pastoral leaseholders for our exploration so far in the Beetaloo, and in the planning phases for 2019 activity.
This has included securing permission to access the lands and undertaking sacred site clearances to ensure the protection of areas important to the Native Title holders.
Any future development in the Beetaloo will only be undertaken following the agreement of our host Traditional Owners and pastoral leaseholders and under strict regulations and laws. 

In the Beetaloo, relationships with host Traditional Owners is the starting point of any future success. Origin has good relationships with its host Traditional Owners in the areas where we work, and they are supportive of our presence and the benefits working together brings to their community.

Following their lifting of the moratorium on fracking in 2018, we've been working with the Northern Territory government as it seeks to implement all 135 recommendations of the scientific inquiry.